24th Annual Big 12 Conference Football Media Days Highlight Oklahoma's Coach Riley, Sooners Dominance
by
BoCarter
| Posted on Tuesday, July 16th, 2019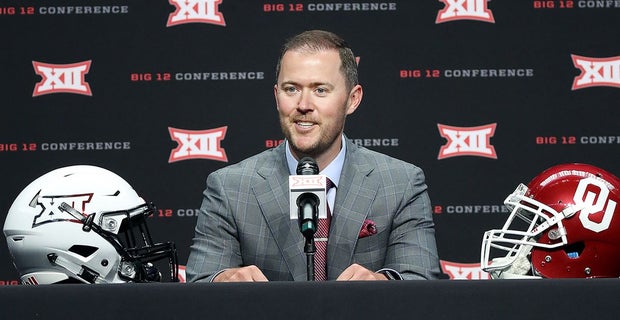 ARLINGTON, Texas – It is a long way from the West Texas hamlet of Muleshoe, Texas (population 5,158) to Norman, Okla. – actually, 373 miles and a hearty, six-hours-plus drive overland.
But it has proven to be not that far from annual contention for College Football Playoff laurels and the Big 12 Conference football crown for one of Muleshoe's finest products and Oklahoma football head coach Lincoln Riley.
Riley literally has earned his spurs following in the footsteps of 10-time Big 12 championship head coach Bob Stoops at OU with two titles of his own and 24 victories in his first 28 contests as head of the Sooner Football Nation.
The third-year head coach, who will not turn 36 until the second week of the 2019 season, outlined his future plans for Oklahoma dominance of the league as well as reflections on his first two years at the helm during Monday's 24th annual Big 12 Football Media Days.
"Oklahoma has had a system set up to maximize the talent on hand," he explained, "and if you are smart, you don't make a lot of changes to that system. Our players and coaches have had great recognition of the task ahead and a lot of self-motivation."
After rolling to identical 12-2 marks in those 2017 and '18 Big 12-capturing campaigns, Riley notes there are no magic potions or easy solutions to meeting all nine other schools in Big 12 regular-season play and then the league runnerup in the Dr Pepper Big 12 Championship again set for AT&T Stadium in this fair city, site of Big 12 media days for the first time.
"We try to seek the best players available on offense and defense to fit our system," he related, "and we want youngsters who know our reputation of wanting to play the best teams in the country.
"And we also realize there are positions that are difficult to recruit," Riley added, "and you have to look at body types and potential for certain positions. We know that defensive linemen particularly are hard to recruit. There just aren't that many who fit the models for college linemen, and the motivation to succeed is different for every guy."
Riley and his staff are cognizant, though, of moving some student-athletes from defense to offense and the rewards that may allow.
"We have one youngster we moved over to offense," he stated, "and he can play guard or tackle and had a great spring. It is these kinds of young players who really make your program."
Riley also answered queries about how emerging coaches such as Ryan Day at Ohio State might be able to succeed while following retired head coaching legend Urban Meyer.
"Bottom line, you just have to keep winning in any program with that kind of traditional success," he said, "and you have to have enough quality players to compete for jobs on both sides of the football."
Riley, father of two young daughters, also knows the value of relaxation and being with family and friends during precious down time.
"I like to go trout fishing in Colorado and sword fishing in Cabo San Lucas, Mexico," he noted with a grin. "I have taken coach Stoops and other friends on some of these trips, and it is interesting to see how they react. It is just great to get to visit and relax with everyone when time allows."
The third-year OU mentor also explained how the presence of Stoops and NFF College Hall of Fame coach Barry Switzer can be a positive factor for a young team.
"We are so fortunate to have Bob Stoops and Barry Switzer there at practices and other special occasions," he said. "You look at the tradition they kept up at Oklahoma after (NFF College Hall of Fame) coach (Bud) Wilkinson started, and you simply have a pattern of success."
Big 12 media members, who will visit with five additional head coaches Tuesday at the stadium, enjoyed a solid round of questions and answers with Big 12 commissioner Bob Bowslby, new Kansas head coach Les Miles, TCU's Gary Patterson, Oklahoma State's Mike Gundy, Texas Tech's new head coach Matt Wells, and Riley.
Monday's five coaching speakers have a combined 498-215 all-time record as head coaches (Patterson with 167 wins and Gundy with 121 are their schools' recordholders for triumphs), and Tuesday's lineup includes Baylor's Matt Rhule, Iowa State's Matt Campbell, West Virginia's first-year taskmaster Neal Brown, Kansas State's incoming head coach Chris Klieman, and Texas' Tom Herman.
Klieman is coming off a 15-0 mark in 2018 and NCAA FCS title at Frisco, Texas, over Eastern Washington (his second in succession and fourth in five years while heading the North Dakota State program) and has a 69-6 overall mark in five years at NDSU.
TCU's Patterson and Texas' Herman provided stout opposition to back-to-back Heisman Trophy winners QBs Baker Mayfield and Kyler Murray in the 2017 and '18 Dr Pepper Big 12 title tilts and hope to get a shot at avenging those setbacks in 2019.
###