24th Annual Big 12 Conference Football Media Days
by
BoCarter
| Posted on Wednesday, July 17th, 2019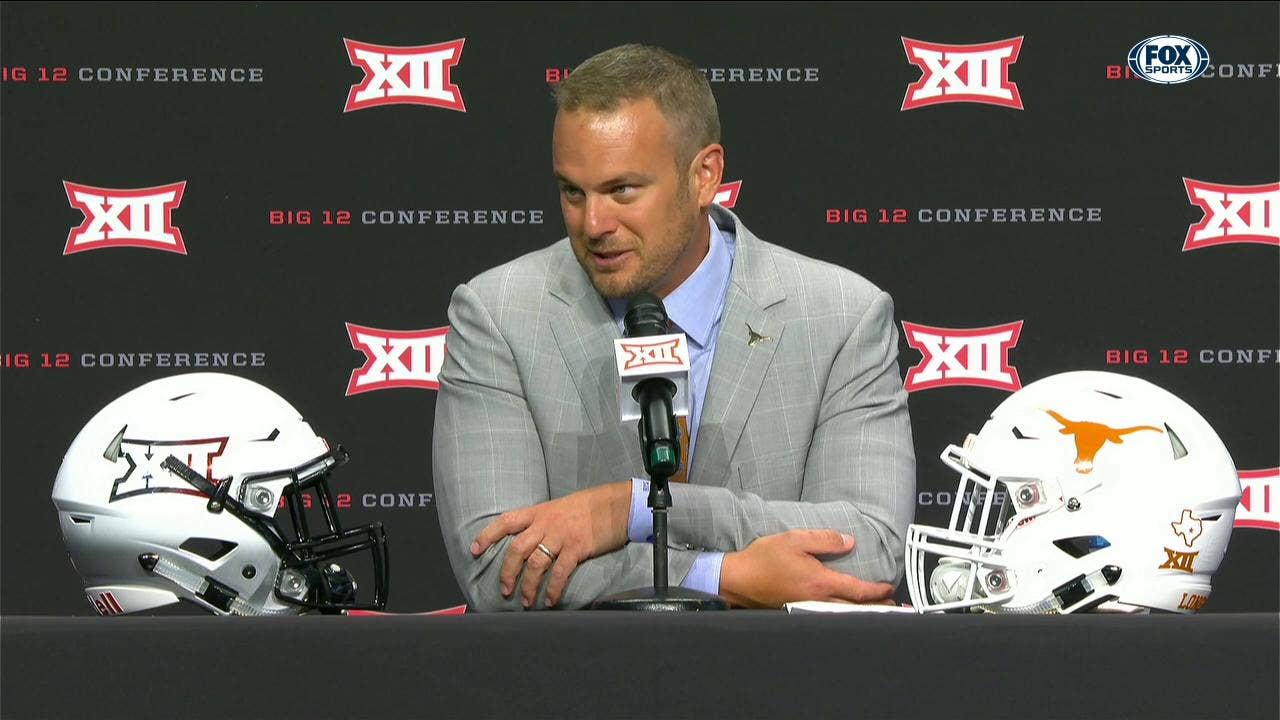 Day 2 of 24th Annual Big 12 Conference Football Media Days
Has Coaches Talking Defense (Huh?)
By Bo Carter (bo@sportspedia.com)
ARLINGTON, Texas – For a conference, which prides itself on entertaining, high-scoring tussles among all 10 teams in full round-robin play during the circuit portion of the season, the Big 12 actually may be paying more attention to defense in 2019.
That was a theme among all five head coaches and student-athletes on Day 2 of the 24th annual Big 12 Media Days at AT&T Stadium Tuesday, and media seemed to think the participants were not just speaking in riddles.
"We have had to change the culture of football at Iowa State and have done a very good job of it the last seven months," said ISU head coach Matt Campbell. "We have two great linebackers returning, and we have to be able to build on the front seven defensively."
And these words of wisdom were coming from a school that tied West Virginia for third place in loop standings last year at 6-3, finished 8-5 overall and paced Big 12 squadrons with a defensive yield of 22.9 points per game.
"Actually, Iowa State does a lot of things the old fashioned way from the 1960s and 1970s," remarked first-year WVU head coach Neal Brown. "They are effective with these schemes, and, heck we went back to an old Split-T formation play when I was coaching at Troy last year to beat Buffalo (42-28 in the Dollar General Bowl)."
Now don't get the impression that the Big 12 is going to the old rock-'em, sock-'em brand of smash mouth football a' la the Big Ten or maybe the Southeastern Conference.
Coaches gathered for media days still expect a bunch of points when Big 12 foes meet this fall.
"We have several guys competing for spots at running back and wide receiver," Campbell stated, "and our biggest challenge remains taking 18-yaear-old boys and turning them into 22-year-old men before their careers end. That goes for both sides of the ball."
Baylor head coach Matt Rhule, who took the Bears from a 1-11 mark in 2017 to a 7-6 record in '18 with a 45-38 win over Vanderbilt of the SEC in the Academy Sports + Outdoors Houston Bowl, echoed may of the same sentiments.
"We gave up 39 sacks last year," he explained, "and we can't have (quarterback) Charlie Brewer running for his life back there. It was a case of having to play many kids the last two seasons before they were ready, but we have more depth this season.
"Honestly, Big 12 offenses consist of a lot of run-pass option plays," he added, "and we have to keep up with the trends. We have some kids like (DB) Kalon Barnes who had a full contact workout one day last spring and then rushed over to the track to run the 100 meters in 10.2 seconds. He has to be one of the fastest players I have ever coached."
Texas head coach Tom Herman, coming off a titanic 28-21 upset of defending College Football Playoff runner Georgia in the 2019 Allstate Sugar Bowl, pointed to the talent of returning starting quarterback Sam Ehlinger (25 passing touchdowns, 16 rushing scores in '18) as the impetus for another banner year for the Longhorns offense.
First-year Kansas State head coach Chris Klieman, coming off a 69-6 run with four NCAA FCS championships in five seasons as football chief at North Dakota State, exuded confidence in a seasoned group of linebackers and returning starting QB Skylar Thompson for a rebound from a 5-7 finish for the perennial Big 12 contenders.
Klieman has the additional task of filling the shoes of NFF College Hall of Fame head coach and now retired Bill Snyder after the latter genius rolled to a 215-117-1 record with 19 bowl games over 27 seasons. K-State had won three games in three years prior to Snyder's advent in 1989 and was even considering dropping football as a last-ditch maneuver.
"There is no way anyone can replace coach Bill Snyder," Klieman said. "He not only is the greatest coach in Kansas State history, but he has to go down as one of the top football coaches in NCAA history if you look at his accomplishments."
West Virginia's Brown (not related to former Texas coaching legend and new North Carolina mentor Mack Brown), who guided the Troy Trojans to three consecutive 10-win seasons and a 3-0 bowl record from 2016-18, is bringing back some of his offensive savvy after serving as offensive coordinator under Tommy Tuberville at Texas Tech from 2010-12.
"This conference has been known for its offense for almost its entire existence," Neal Brown noted. "The defense are in for a challenge, and I our case we will have one of the youngest teams in the Big 12 on offense and defense. I just expect our players will grow and improve every week against a very tough non-conference and Big 12 schedule."
Yep, while the Big 12 gears up for another big campaign of crossing the end stripe, there will be 11 defenders on each play at least trying to slow down some of that point production.
Along with ISU's impressive 22.9 scoring yield from 2018, there are always-rugged TCU under head coach Gary Patterson with a 23.1 defensive average, improving Kansas State at 25.4 ppg, and he ever-present Longhorns with a 25.9 defensive average looming to steal some of the thunder from four-time defending Big 12 champ Oklahoma.
It certainly adds up (and down) for some ample nailbiters when Oklahoma State travels to Oregon State Aug. 30 to begin activity among Big 12 teams and when the intra-conference slate opens in earnest on Saturday, Sept. 28.
24th Annual Big 12 Conference Football Media Days
Highlight Oklahoma's Coach Riley, Sooners Dominance
By Bo Carter (bo@sportspedia.com)
ARLINGTON, Texas – It is a long way from the West Texas hamlet of Muleshoe, Texas (population 5,158) to Norman, Okla. – actually, 373 miles and a hearty, six-hours-plus drive overland.
But it has proven to be not that far from annual contention for College Football Playoff laurels and the Big 12 Conference football crown for one of Muleshoe's finest products and Oklahoma football head coach Lincoln Riley.
Riley literally has earned his spurs following in the footsteps of 10-time Big 12 championship head coach Bob Stoops at OU with two titles of his own and 24 victories in his first 28 contests as head of the Sooner Football Nation.
The third-year head coach, who will not turn 36 until the second week of the 2019 season, outlined his future plans for Oklahoma dominance of the league as well as reflections on his first two years at the helm during Monday's 24th annual Big 12 Football Media Days.
"Oklahoma has had a system set up to maximize the talent on hand," he explained, "and if you are smart, you don't make a lot of changes to that system. Our players and coaches have had great recognition of the task ahead and a lot of self-motivation."
After rolling to identical 12-2 marks in those 2017 and '18 Big 12-capturing campaigns, Riley notes there are no magic potions or easy solutions to meeting all nine other schools in Big 12 regular-season play and then the league runnerup in the Dr Pepper Big 12 Championship again set for AT&T Stadium in this fair city, site of Big 12 media days for the first time.
"We try to seek the best players available on offense and defense to fit our system," he related, "and we want youngsters who know our reputation of wanting to play the best teams in the country.
"And we also realize there are positions that are difficult to recruit," Riley added, "and you have to look at body types and potential for certain positions. We know that defensive linemen particularly are hard to recruit. There just aren't that many who fit the models for college linemen, and the motivation to succeed is different for every guy."
Riley and his staff are cognizant, though, of moving some student-athletes from defense to offense and the rewards that may allow.
"We have one youngster we moved over to offense," he stated, "and he can play guard or tackle and had a great spring. It is these kinds of young players who really make your program."
Riley also answered queries about how emerging coaches such as Ryan Day at Ohio State might be able to succeed while following retired head coaching legend Urban Meyer.
"Bottom line, you just have to keep winning in any program with that kind of traditional success," he said, "and you have to have enough quality players to compete for jobs on both sides of the football."
Riley, father of two young daughters, also knows the value of relaxation and being with family and friends during precious down time.
"I like to go trout fishing in Colorado and sword fishing in Cabo San Lucas, Mexico," he noted with a grin. "I have taken coach Stoops and other friends on some of these trips, and it is interesting to see how they react. It is just great to get to visit and relax with everyone when time allows."
The third-year OU mentor also explained how the presence of Stoops and NFF College Hall of Fame coach Barry Switzer can be a positive factor for a young team.
"We are so fortunate to have Bob Stoops and Barry Switzer there at practices and other special occasions," he said. "You look at the tradition they kept up at Oklahoma after (NFF College Hall of Fame) coach (Bud) Wilkinson started, and you simply have a pattern of success."
Big 12 media members, who will visit with five additional head coaches Tuesday at the stadium, enjoyed a solid round of questions and answers with Big 12 commissioner Bob Bowslby, new Kansas head coach Les Miles, TCU's Gary Patterson, Oklahoma State's Mike Gundy, Texas Tech's new head coach Matt Wells, and Riley.
Monday's five coaching speakers have a combined 498-215 all-time record as head coaches (Patterson with 167 wins and Gundy with 121 are their schools' recordholders for triumphs), and Tuesday's lineup includes Baylor's Matt Rhule, Iowa State's Matt Campbell, West Virginia's first-year taskmaster Neal Brown, Kansas State's incoming head coach Chris Klieman, and Texas' Tom Herman.
Klieman is coming off a 15-0 mark in 2018 and NCAA FCS title at Frisco, Texas, over Eastern Washington (his second in succession and fourth in five years while heading the North Dakota State program) and has a 69-6 overall mark in five years at NDSU.
TCU's Patterson and Texas' Herman provided stout opposition to back-to-back Heisman Trophy winners QBs Baker Mayfield and Kyler Murray in the 2017 and '18 Dr Pepper Big 12 title tilts and hope to get a shot at avenging those setbacks in 2019.