College Football Notes – Sept. 15, 2019
by
BoCarter
| Posted on Sunday, September 15th, 2019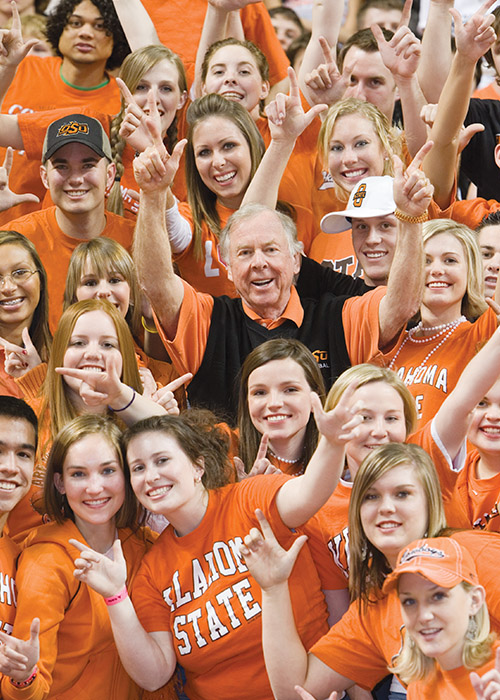 Boone Pickens, recipient of the 2008 NFF Distinguished American Award, giver of $1 billion-plus to charitable and educational causes, benefactor of a NCAA-record $652 million to his alma mater Oklahoma State, and noted worldwide for his knowledge of the energy field, passed away in Dallas Sept. 11 at the age of 91. He was a longtime member of the NFF Board of Directors and Pickens was born May 22, 1928, in Holdenville, Okla., but spent his adult years in Texas. The long-time Dallas resident, who had battled back from a series of strokes and further head injuries sustained in a 2017 fall, died of natural causes surrounded by friends and family. His father was in the oil business, and his mother ran the Office of Price Administration during World War II, rationing gasoline and other goods for four Oklahoma counties. Boone attributed much of his success to lessons learned from his mother and father. As a youth, his family moved to Amarillo, Texas, where he attended high school. After one year at Texas A&M on a basketball scholarship, Pickens transferred to Oklahoma A&M (now Oklahoma State) where he earned a degree in geology in 1951. He worked for Phillips Petroleum for three years before striking out on his own in 1954. With $2,500 of borrowed money, Pickens and two investors formed an oil and gas firm called Petroleum Exploration Inc. Later, he formed Altair Oil & Gas Co. to pursue oil and gas exploration opportunities in western Canada. Both were predecessor companies to Mesa Petroleum, which he founded in 1957 and took public in 1964. Pickens built Mesa into one of America's largest independent natural gas and oil companies. Mesa produced more than 3 trillion cubic feet of gas and 150 million barrels of oil from 1964 to 1996. In 1996, upon leaving Mesa Petroleum at age 68, Pickens embarked on an even more successful career by forming an energy-focused investment firm, BP Capital, one of America's most successful hedge funds primarily focused on oil and gas commodities and energy-dependent equities. He was a champion of green energy and wind-aided power for three-plus decades.
Upcoming On-Campus Salutes for 2019 NFF College Hall of Fame inductees presented by Fidelity Investments are Sept. 21, Coach Dennis Erickson, Washington State (1987-88) vs. UCLA; Sept. 28,Coach Dennis Erickson, Oregon State (1999-2002) vs. Stanford; Sept. 28, London Fletcher, John Carroll [Ohio] (1995-97) vs. Mount Union; Sept. 28, Lorenzo White, Michigan State (1984-87) vs. Indiana; Oct. 5, Patrick Willis, Ole Miss (2003-06) vs. Vanderbilt; Oct. 10, Torry Holt, NC State (1995-98) vs. Syracuse; Oct. 12, Jacob Green, Texas A&M (1977-79) vs. Alabama; Oct. 12, Joe Thomas, Wisconsin (2003-06) vs. Michigan State; Oct. 19, Coach Dennis Erickson, Miami (Fla.) (1989-94) vs. Georgia Tech; Oct. 19, Darren McFadden, Arkansas (2005-07) vs. Auburn; Nov. 9, Jake Plummer Arizona State (1993-96) vs. Southern California.
NFF College Hall of Fame Facts
Some notable birthdates in NFF College Hall of Fame annals in the Sept. 16-22 time period are Sept. 16 (1927) Bob Ward, Elizabeth, N.J.; (1954) Wilbert Montgomery, Greenville, Miss.; Sept. 17 (1897) Ed Travis, Tarkio, Mo.; (1909) Bill Morton, New Rochelle, N.Y.; (1910) Cliff Montgomery, Pittsburgh, Pa.;  (1913) James Moscrip, Adena, Ohio; (1960) Anthony Carter, Riviera Beach, Fla.; Sept. 18 (1910) Ernie Rentner, Joliet, Ill.; (1926) Skip Minisi, Newark, N.J.; (1955) Billy Sims, St. Louis, Mo.; Sept. 19 (1873) Sam Thorne, New York, N.Y.; (1919) Mike Holovak, Lansford, Pa.; (1921) Charlie Conerly, Clarksdale, Miss.; (1930) Don Heinrich, Bremerton, Wash.; (1954) Reggie Williams, Flint, Mich.; Sept. 20 (1943) Tommy Nobis, San Antonio, Texas; (1972) Ronald McKinnon, Ft. Rucker, Ala.; Sept. 21 (1934) Brock Strom, Munising, Mich.; (1940) Sandy Stephens, Uniontown, Pa.; Sept. 22 (1898) Hunk Anderson, Tamrack, Mich.; (1905) Larry Bettencourt, Newark, Calif.; (1907) Thad "Pie" Vann, Magnolia, Miss.; (1922) Ray Evans, Kansas City, Kan.; (1959) Bob Crable, Cincinnati, Ohio.
Notable anniversary death dates for Hall of Famers are Sept. 16 (1966) Jim Holder, In Combat in Vietnam; ( 2007) Buster Ramsey, Chattanooga, Tenn.; Sept. 19 (1944) Francis Schmidt, Seattle, Wash.; (1952) Hugo Bezdek, Atlantic City, N.J.; Sept. 20 (2001) Abe Mickal, New Orleans, La.; (2006) Frank "Muddy" Waters, Saginaw, Mich.;
Happy birthdays to NFF College Hall of Fame members Sept. 16 Wilbert Montgomery, Sept. 17 Anthony Carter, Sept. 18 Billy Sims, Sept. 19 Reggie Williams, Sept. 20 Ronald McKinnon, Sept. 21 Brock Strom (a spry 85), Sept. 22 Bob Crable…
Auburn will host New Mexico State in a single game in 2023…Delaware will travel to Navy in 2022… Kansas has a new home-and-home series with Virginia in 2029 and '30. KU also came from a 21-point deficit to upset Boston College 48-24 last Friday night and to win its first road test against a non-conference NCAA FBS opponent since the 2008 season…The North Carolina-Wake Forest national telecast last Friday did not count in Atlantic Coast Conference standings but will work when College Football Playoff evaluations begin later this month…Michigan made a solid, $1.5 million payout on Sept. 7 for Army West Point's visit to campus and double overtime nailbiter for the Wolverines…Washington State and Wake Fores have started their seasons at 3-0 for the third time in four years…SMU is 3-0 for the first time since the beginning of the Mustangs 1984 campaign and is fifth nationally in FBS with 14 consecutive games with a defensive takeaway…Break up NCAA Division II: with several recent NCAA FCS wins over FBS opponents, DII power Midwestern State downed FCS Northwestern State and DII Tarleton State stopped FCS Stephen F. Austin in early-season upset tilts. One of the biggest NCAA FBS member wins over a FBS foe occurred last Saturday when scrappy The Citadel upended Georgia Tech in Atlanta…Virginia Tech's defense has forced two or more turnovers an astounding 129 times since 1990. VT also started the season with success on 16-of-31 third down tries for 52 percent – third in the Atlantic Coast Conference at the time…Colorado played back-to-back overtime games against Nebraska and Air Force for the first time in school annals.
The NFF compiled a list of 1,439 student-athletes who have already earned their undergraduate degrees and will be playing college football this fall while pursuing second diplomas for the third consecutive season.
The NFF gathered the list with the help of athletics directors, faculty athletics representatives and sports information directors from all divisions who identified the players on their 2019 fall rosters who have earned undergraduate degrees. A total of 245 schools responded with 963 players from 126 schools in the Football Bowl Subdivision, 353 players from 82 schools in the Football Championship Subdivision, 110 players from 31 schools in Division II, one player from one school in Division III, and 12 players from five schools in the NAIA. SMU and Kansas State sport the most graduates with 21 players on each of their 2019 rosters.
Arkansas State head coach Blake Anderson returned to the sidelines two hours before kickoff at UNLV after the earlier passing of his wife due to cancer. Anderson also was overwhelmed with support when thousands of Georgia fans wore pink to honor the memory of his late wife when ASU played the Bulldogs in Athens, Ga., last Saturday…Saga Tuitele remains as interim coach as head coach Bob Davie recovers from a serious medical episode. Davie missed last week's bout with the Notre Dame program where he previously coached and told media he expects to make a full recovery from his aliment…TCU head coach Gary Patterson noted that public in-game beer and wine sales might add to the already-eclectic atmosphere at historic Amon Carter Stadium in Fort Worth, Texas…Alabama head coach Nick Saban again appealed to the student body to remain in the stands as long as possible for non-conference home tilts and show support… Liberty head coach Hugh Freeze continues to use innovative medical devices, beds and chairs to coach the team on Saturdays…Longtime and now retired college football coach Bobby Petrino issued apologies for past grievances at the NFF Little Rock Quarterback Club last week to a resounding ovation from the gathering…Florida State football is hoping to add a quality control analyst in coming days…Dallas (Texas) Roosevelt HS head coach Aaron Wallace is a member of both the Texas A&M Athletics Hall of Fame and the Texas Black Sports Hall of Fame. He starred at linebacker for the 1985-88 Aggies as they won three consecutive Southwest Conference titles…Clayton State tabbed Mason Grounds as strength and conditioning coach…Iowa strength and conditioning coach Chris Doyle and defensive coordinator Phil Parker have received new contracts with bonus and monetary provisions…LSU defensive line coach Dennis Johnson continues to recover from a major injury and will be helped by head coach Ed Orgeron with certain duties…Retiring Virginia Tech defensive coordinator Bud Foster was highlighted d by the Norfolk Virginian-Pilot newspaper for his dedication and work ethic over 33 years with the Hokies.
Hometowns of more 2019 college head coaches – Maryland: Mike Locksley, Washington, D.C.; Maryville (Tenn.): Shaun Hayes, Rutledge, Tenn.; Massachusetts; Walt Bell, Dickson, Tenn.; McNeese State: Sterlin Gilbert, San Angelo, Texas; Memphis: Mike Norvell, Irving, Texas.
Connecticut College named Maureen White director of athletics and chair of the physical education department… Media reports in Tennessee indicate that NFF College Hall of Fame coach and Tennessee AD Phillip Fulmer might be in a coach-in-waiting situation at his alma mater…George Mason named Kristi Giddings assistant AD for legal, Alabama President Dr. Stuart Bell and AD Greg Byrne contacted the Southeastern Conference with heat concerns about the numerous morning and afternoon telecasts for Alabama the last three years in the month of September…Stony Brook AD Sean Heilbron, a former media and marketing director with the Big 12 Conference, UCLA, Oregon State, SMU, and Texas, continues to expand the reach of SBU athletics and its national leadership focus. He is a past member of the NCAA Division I Baseball Committee as well…Oklahoma State named Payton Phillips assistant AD for strategic marketing and ticket sales…Temple athletics tabbed Katie Gwinn Hewitt assistant AD for branding and digital strategy…Leti Lerma is the new director of operations for Bradley athletics…George Mason named Krisi Giddings assistant AD for legal, compliance and NCAA government issues…Rhode Island College selected Matt Deignan as assistant sports information director…Rowan chose Marie Wozniak as associate director of athletics communications… Florida's Chip Howard has returned to UF as executive associate athletic director, and the department has shifted some internal executive roles…New Idaho AD Terry Gawlik believes in power of being connected in college football specifically and athletics in general…Utah State AD John Hartwell addressed the future of Aggies football and basketball programs…Texas Tech men's tennis coach Brett Masi has accepted the same position at Southern California…Furman AD Jason Donnelly has placed a special emphasis on branding Furman's name and traditions…Kansas's veteran associate AD for sports medicine Murphy Grant is headed to Wake Forest in the same capacity…Virginia Tech AD Whit Babcock was credited with many sterling coaches' hirings by the Roanoke, Va., Times.
Conference USA senior associate commissioner Merton Hanks of Iowa is one of the just-announced modern-era nominees for the Pro Football Hall of Fame Class of 2020. He starred for nine seasons in the NFL after a stellar career with the Hawkeyes…East Carolina's interim chancellor Dr. Dan Gerlach says leaving the America Athletic Conference is not an option for ECU athletics.
The Sun Bowl Association has signed a new sponsorship with Tony the Tiger® and Frosted Flakes to promote breakfast as a key meal daily for El Paso, Texas, and area youngsters…The Goodyear Cotton Bowl Foundation announced a distribution of $250,000-plus in grants to Teaching Trust, Education Open Doors and Urban Teachers. In the past, the Foundation has supported the Barack Obama Male Leadership Academy in Dallas as well as youth-based initiatives like Catch up and Read and the popular Cotton Bowl Art Contest and youth scholarship program.
Oklahoma State RB Chuba Hubbard raced for 256 yards rushing to lead a comeback win 40-21 for the Cowboys at American Athletic Conference contender Tulsa…Houston QB D'Eriq King tied NFF William V. Campbell Award recipient Tim Tebow of Florida's NCAA FBS record by rushing and passing for touchdowns in the same contest for 14 consecutive games…Some additional recent watch list candidates for several national awards are The Allstate AFCA Good Works Award – Tyriq Harris, LB, Charlotte; James Morgan, QB, FIU; Brenden Knox, RB, Marshall; The John Mackey Award – Sterling Palmer, FIU; Harrison Bryant, Florida Atlantic; Kelvin Smith, North Texas; The Lou Groza National Place Kicker Award – Jonathan Cruz, Charlotte; Jose Borregales, FIU; the Maxwell Award – Mason Fine, QB, North Texas; Spencer Brown, RB, UAB; the Outland Award – Garrett Marino, DL, UAB; Miles Pate, OL, WKU; The Wuerffel Community Service Award – Khalil Brooks, LB, Middle Tennessee; Mufu Taiwo, DE, Old Dominion; Nick Leverett, OL, Rice; Derron Gatewood, OL, UTEP… Gaej Walker of WKU paced Conference USA in rushing through games of Sept. 12 with 252 net yards, 126 yards per contest and three TDs…Middle Tennessee QB Asher O'Hara threw for a Conference USA-best 584 yards and six touchdowns in his first two fracases…Stanford has been alternating quarterbacks K.J. Costello and David Mills due to injuries and situational coverages…University of Calgary return man Chaz Marshall, a true freshman who turns 18 later this month, has been a key cog in the Dinos 3-0 start this season…Converted QB Roschon Johnson suddenly has moved near the top of the Texas depth chart after several maladies involving Longhorns running backs…Baylor QB Charlie Brewer is expected to be back at full strength and with happy feet after suffering burning sensations in his instep area during BU's daytime win over UTSA Sept. 7. Bear wideout R.J. Sneed was singled out for early season improvement in all areas of his game…Texas Tech's special teams have gotten a boost from 45-yard punt average man Austin McNamara and placement specialist Trey Wolff…Texas A&M RB Dashaun Corbin is out for the season with a severe hamstring injury…Washington State kicker Blake Mazza (a transfer from Arkansas) delighted family and friends as the Cougars of longtime Texas Tech head coach Mike Leach returned to Texas to face the Houston Cougars last Friday in an ESPN telecast. The Plano, Texas, native and son of healthcare executive Kristen Mazza of Mesquite, Texas, Christian Care Center, connected on his first 24 placekicks for WSU in 2019 (five field goals, 19 PAT kicks) to begin his WSU tenure…North Texas' converted defensive back Tre Siggers motored for 164 yards in 18 carries in his recent road debut at SMU…Texas A&M CB Debione Renfro has been reinstated for full playing status…Georgia WR Kearis Jackson appears to be recuperating quickly from a broken hand and should return to activity in 2-3 weeks…Illinois RB Mike Epstein has been sidelined for the third straight season due to a serious injury…Tennessee CB Bryce Thompson has returned to active duty for the Vols after an earlier suspension…NC State WR C.J. Riley is out for the remainder of 2019 with a torn knee ligament…Marshall RB Tyler King has left school and will seek a new football destination for 2020…Wyoming's Bradley Belt will compete at a new college in 2020…Former Florida defensive back John Huggins will compete at a new football location next autumn.
Numerous NFF College Hall of Fame players made the CBS Sports All-150 Year College Football Team, and among the honorees were QB Tommie Frazier (Nebraska, 1992-95); RBs Herschel Walker (Georgia 1980-82) and Barry Sanders (Oklahoma State, 1986-88); wide receivers Randy Moss (Marshall, 1995-97 – Pro Football Hall of Fame) and Anthony Carter (Michigan, 1979-82); tight end Ozzie Newsome (Alabama, 1974-77): center Dave Rimington (Nebraska, 1979-82); offensive linemen Orlando Pace (Ohio State, 1994-96), Jonathan Ogden (UCLA, 1992-95), John Hannah (Alabama, 1970-72), and Ron Yary (USC, 1965-67); defensive linemen Lee Roy Selmon (Oklahoma, 1972-75), Ndomukung Suh (Nebraska, 2005-09), Hugh Green (Pittsburgh, 1977-80), and Reggie White (Tennessee, 1980-83); linebackers Dick Butkus (Illinois, 1962-64), Derrick Thomas (Alabama, 1985-88) and Tommy Nobis (Texas, 1963-65); cornerbacks Charles Woodson* (Michigan, 1995-97) and Deion Sanders (Florida State, 1985-88); safeties Ed Reed (Miami, Fla., 1998-01) and Ronnie Lott (USC, 1977-80)…NFF College Hall of Fame member Lynn Swann is stepping down as AD at Southern California. USC vice president Dave Roberts has taken over as interim AD…Memphis athletics named Corey Green director of operations…Recently unearthed audio from a 1964 Texas A&M Aggie Muster ceremony on campus included the re-telling of the famed 12th Man story by Dr. E. King Gill, who came out of the stands during the 1922 Dixie Classic in Dallas vs. Centre to suit up when the Aggies roster was reduced to just 11 players because of injuries…Reddit.com also has posted a 1923 photo of now-razed Fair Park Stadium in Dallas (on the site of the current Cotton Bowl Stadium where Texas and then-Southern Conference power Vanderbilt tussled in the major collegiate football game during the State Fair of Texas from 1923-28 before Texas and Oklahoma garnered the AT&T Red River Football Showdown center stage from 1930-present. The Longhorns and Sooners will play the CB Stadium for the 90th consecutive time next month.
Syracuse placed the first piece of steel for the Carrier Dome's new roof and has added a second construction crane to the remodeling of the stadium…UAB has begin construction on the new $174 million Protective Stadium in Birmingham, Ala….Texas athletics is working with game management personnel and area security officials about more orderly and safe entry into the UT student sections for home games. The Longhorns also have addressed possible air conditioning challenges in the visiting team locker rooms…Knoxville (Tenn.) police authorities thanked BYU fans for their model behavior after the Cougars upset Tennessee in Knoxville…Arizona is working on a future project to replace the aging west side of Arizona Stadium…East Carolina athletics revealed its new tower on campus…Kansas State is beginning fundraising and architectural renderings for $105 in improvements for athletics' facilities…Georgia Tech's famed Ramblin' Wreck antique auto has been repaired and is rolling down the sidelines again…Houston athletics has implemented several new security measures at TDECU Stadium…LSU athletics reported public beer and wine sales for the season opener far exceeded projections for consumption and revenue…Michigan athletics reminded fans and hobbyists about a no-drone rule at Michigan Stadium on game days…Stony Brook athletics has had public beer and wine sales approved for football and basketball contests…UCLA's campaign for single-game ticket sales continues in earnest…The Wisconsin Athletics Board has made some 2019-20 academic year changes to the UW Student-Athlete Discipline Policy…Alabama's proposed Bryant-Denny Stadium renovations may have $13.5 million added to their price tag…Fresno State's Bulldog Stadium has new turf and stadium lights in 2019, but athletics officials estimate there may be up to $45 million in additional needs…Georgia's Athletics Association Board of Directors has approved the $80 million renovation and expansion of the Butts-Mehre Building…Boise State is working on some late single-game ticket sales' campaigns…New Mexico State athletics reported a $326,000-plus profit from ticket sales and increased fundraising in fiscal year 2019…Ohio State football players and coaches expressed appreciation for the OSU Players Lounge…The new Las Vegas Stadium naming rights' agreement appears to be upcoming with Allegiant.
Iowa State athletics expressed great satisfaction that ESPN Game Day made an appearance in Ames, Iowa, last weekend for the ISU-Iowa rivalry clash…Popular NFL and college football analyst Ed Werder has returned to fulltime duties with ESPN…The Rice Board of Trustees honored 32-year RU photographer Tommy LaVergne for telling Rice's story through photographs of athletics and other key departments.
The FWAA recognized Michigan State and 2019 FWAA Outland Trophy candidates' defensive linemen Raequan Williams and Mike Panasiuk. That duo helped the Spartans hold their first two opponents to a composite minus six rushing yards before last weekend's MSU-Arizona State clash…The FWAA also highlighted the 1956 FWAA All-America team led by Heisman Trophy winner RB Paul Hornung of Notre Dame and Syracuse RB Jim Brown – both NFF College Hall of Fame members…Ira Thor of Jersey City U., Todd Miles of Oregon, Brian Hand of Conference Carolinas, Ali Paquette of Wesleyan (Conn.), Thomas Stepp of Texas, and Jon Fuller of Buffalo were featured subjects and opinion makers in the CoSIDA Open Forum online newsletter…Actress Felicity Huffman has been the first person sentenced in a Boston court for unauthorized admissions (in this case, Southern California) for students on alleged athletics' grants-in-aid…There is a bill awaiting the governor's signature in California to allow payments for California collegiate student-athletes beginning in 2023. The NCAA has asked California Gov. Gavin Newsom to study the repercussions for college athletics if the legislation goes into effect…The NCAA also is working with Arizona, Baylor, Duke, Indiana, Kentucky, Louisville, UM Duluth, Michigan State, Mississippi State, Penn State, St. Cloud State, South Carolina, and Southern California to alleviate various compliance and legal issues…Texas has completed a thorough review of admissions and acknowledged that no unauthorized students have been admitted to the Austin campus in recent years.
Allstate and the AFCA have denoted the 2019 Good Works Team® with 22 football student-athletes and one honorary coach from among 137 nominees who stood out for their leadership in local communities and overall commitment to giving back. The team includes:
Football Bowl Subdivision (FBS)
Koby Quansah, Duke
Denzel Goolsby, Kansas State
James Smith-Williams, NC State
Connor Wedington, Stanford
Isaiah Sanders, U.S. Air Force Academy
Marcel Dancy, California
Jake Fromm, Georgia
Bryce Torneden, Kansas
Landon Young, Kentucky
Tre Tipton, Pittsburgh
Spencer Eason-Riddle, South Carolina
Combined Divisions (FCS, II, III & NAIA)
Danny Munoz, Bethel (Minn.)
George Hatalowich, Davidson    
Ryan Landis, Frostburg State
Josh Pearson, Jacksonville State
Aaron Feazelle, Mississippi College
Jacob Katzer, Morningside (Iowa) 
Ben Ellefson, North Dakota State
Ben Bartch, Saint John's (Minn.)
Dante Olson, Montana
Ryan Oliver, Utica College (N.Y.)     
Luke Bevilacqua Wayne State (Mich.)
Honorary Head Coach
Dabo Swinney, Clemson
2019-20 College Football Playoff Bowl Schedule with New Year's six(All Games Televised by ESPN, All Times EST) CFPSaturday, Dec. 28 (CFP Semifinals)PlayStation Fiesta Bowl – State Farm Stadium, Glendale, Ariz., 4 or 8 p.m.Chick-Fil-A Bowl, Mercedes-Benz Stadium, Atlanta, 4 or 8 p.m.Monday, Jan. 13 – CFP Championship, Mercedes-Benz Superdome, New Orleans, La., 8 p.m. Saturday, Dec. 28-Jan. 1, 2019-20 (Other New Year's Six Bowls)Saturday, Dec. 28 – Goodyear Cotton Bowl – AT&T Stadium, Arlington, Texas, noonMonday, Dec. 30 – Capital One Orange Bowl, Hard Rock Stadium, Miami Gardens, Fla., 8 p.m.Wednesday, Jan. 1Rose Bowl Presented by Northwestern Mutual, Rose Bowl, Pasadena, Calif., 5 p.m.Allstate Sugar Bowl – Mercedes-Benz Superdome, New Orleans, La., 8:45 p.m.
###