SEC Week 6 Picks and Predictions
by
Dan M
| Posted on Friday, October 4th, 2019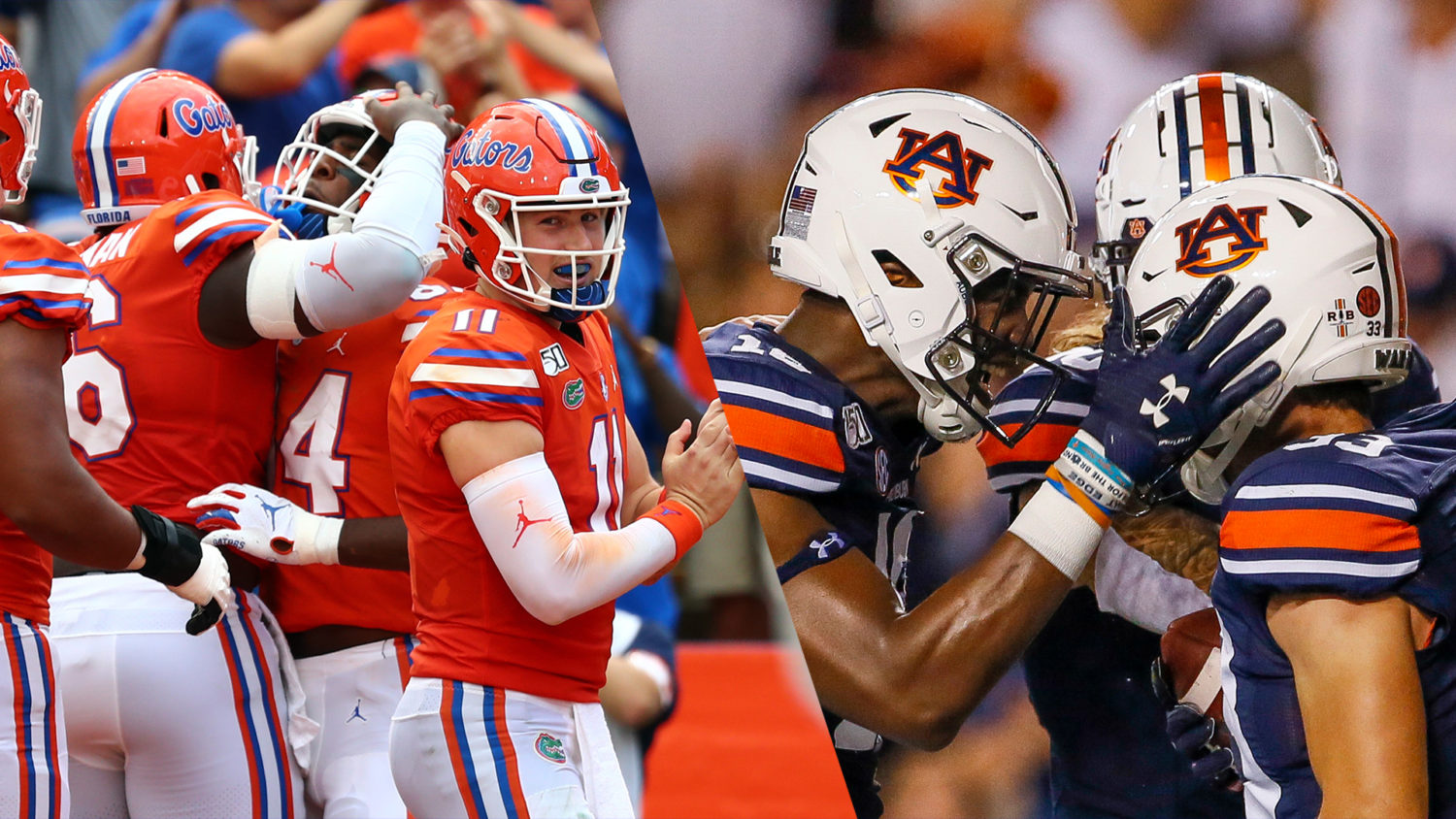 By ROBERT CORTINEZ                                                                                                                                  RCORTINEZ2@HOTMAIL.COM
The annual SEC Attrition subtraction-games start this week. The
SEC game of the week features #7 Auburn traveling to the hot and humid
confines of Gainesville, aka the "Swamp", to take on #10 Florida. The
loser of this game will exit the AP top 10 and is most assuredly out
of this year's college football playoffs. Not to mention that Florida
still has to face #3 Georgia while Auburn gets the pleasure of playing
#5 LSU and newly minted #1 Alabama on the West side. The teams in the
four other power 5 conferences ( ACC, Pac 12, Big 10 and Big 12)
couldn't be happier.
Other than than that lil' ole game in Gainesville, the rest of the
SEC slate is unspectacular if not outright ugly. There are only four
other SEC games (Utah St. at LSU, Troy at Missouri, Georgia at
Tennessee, and Vandy at Ole Miss), which none of those tilts will
titillate college football curiosity.
Six SEC teams get a bye this week with Alabama, Arkansas, Kentucky,
Mississippi State, South Carolina and Texas A&M resting and watching
the rest of the nation do battle.
Last Week: Straight- 6-0 / ATS- 4-2
Season Results: Straight 43-8 / 27-21-3
Utah State (3-1) at #5 LSU (4-0)
Line: Tigers -7.5 / 73
Time/TV: 11:00 a.m, SECN
The LSU Tigers quarterback situation has this year's team
believing. Years past, the lack of a quarterback killed any national
title hopes for the Bayou Bengals.  That won't be a problem this year,
with senior transfer QB Joe Burrow's 17 TD's, 1520 yards and 94.1 QBR.
If LSU hadn't had a bye week last week, Burrows probably would have
the most passing TD's in all of college football. Speaking of bye
week mischief, the AP voters demoted LSU for being off last week and
elevated Ohio State to #4 after the Buckeyes beat a hapless Nebraska
team. Utah State ain't a bad team, their only loss was to undefeated
#22 Wake Forest, but their wins were against Mountain West Colorado
State, San Diego State, and FCS Stonybrook.
Utah State's running game is averaging about 6 yards per carry
with scatback Jaylen Warren (5'8" , 215 lbs, 6.7 ypc) leading the way.
LSU will be looking to shut down the semi-potent Utah State offense,
especially after letting Vandy score 38 points two weeks ago. The Utah
State Aggies, won't be confused with the Aggies of Texas A&M, and SEC
muscle should carry the day in this one.
Pick: LSU  45 Utah State 10
#7 Auburn (5-0) at #10 Florida (4-0)
Line: Tigers -2.5 / 48.5
Time/TV: 2:30, CBS
Auburn HC Gus Malzahn has yet to coach a football game at
Florida's Ben Hill-Griffin Stadium. Malzahn has been coaching in the
SEC since 2006, with an interim stint at Tulsa, coaching in the SEC
West with Arkansas and Auburn when the Florida game was on a rotating
basis and the Swamp was never visited. Baptism by fire this weekend
when #7 Auburn takes on #10 Florida in the nation's only top 10
match-up.  Florida has hovered at #10 despite losing starting QB
Feleipe Franks to a season ending injury. Frank's replacement, Kyle
Trask, has been steady in his three games, all victories, throwing for
647 yards and 5 TD's but will have to do better through the air
against an Auburn defense that is holding its opponents to only 94
yards rushing per game.
Auburn true freshman Bo Nix has almost 1,000 yards (980) and seven
TD's but hasn't had that "spectacular" game.  Nix's comeback win
against #13 Oregon was noteworthy but the Ducks gave that game away in
the 4th quarter. Auburn has begun a trend of resting #1 running back,
Boobie Whitlow (92 carries, 463 yards, 5 ypc.) to keep him fresh for
the second half and it's working for the Tigers. Florida's defense
has 26 sacks on the season making the Tigers O-line the most important
unit on the field this Saturday. Two excellent coaches, two good
teams, only one winner. Going with the more seasoned SEC west.
Pick: Auburn 28  Florida 23
Troy (2-2) at Missouri (3-1)
Line: Tigers -25 / 64.5
Time/TV: 3:00, SECN
Missouri was resting last week while their opponent in college
football's week six, the Troy Trojans, endured a heartbreaking
conference loss to Arkansas State 50-43. The Trojans had a chance to
tie the game on a fourth down at Ark. State's 8 yard line with 8
seconds left but a 10 second run-off for an offensive player's injury
ended the high scoring affair. Troy's senior QB, Kaleb Barker, had 34
completions, 367 yds, and 4 T.D.'s in that game but his defense was
fooled all night on trick plays, fake punts and fourth down
go-for-its.
Missouri looks to have rebounded from its season opening road loss
to Wyoming, which doesn't look as bad with the Cowboys going 4-1 on
the season. Missouri's transfer QB, Kelly Bryant, has passed for over
1,000 yards including 8 TD's and is the team's third leading rusher in
the Tigers' first four games. Mizzou's defense has allowed only 21
total points in the three games since its opening loss (37-31) at
Wyoming. The Tigers can't sleepwalk through this game with the dreaded
bye week hangover. Troy was the pre-season pick to win the Sun Belt
conference so Missouri has to bring it from the jump.
Pick: Missouri 41 Troy 21
#3 Georgia (4-0) at Tennessee (1-3)
Line: Bulldogs -25 / 51.5
Time/TV: 6:00, ESPN
Georgia and Tennessee were both off last week, however the teams
couldn't have spent their bye-time any different. The Bulldogs had a
typical off week, no heavy hitting, rested injured players, put in a
few wrinkles etc. On the other hand,  Tennessee's HC Jeremy Pruitt
tried to improperly influence a police officer arresting one of his
players on an outstanding warrant and then threw "shade" on Georgia HC
Kirby Smart. Pruett implied to reporters that Smart's rebuilding of
Georgia's football program wasn't that big of a deal since Georgia had
a 10 win season in the three years prior to Smart's arrival in Athens.
Not a good idea to poke the #3 Dawgs head coach when your Vols were
beaten at home by an FCS school and a weak BYU team.
Georgia's offense is clicking and after the strong victory over
then #7 Notre Dame in week 4, there won't be a let-down in Knoxville.
QB Jacob Fromm should pick up where he left off and the Dawg defense
will devour the Vol's inept offense. Georgia should cover the line and
seal the deal to send Coach Pruett to a different coaching
destination.
Pick: Georgia 41 Tennessee 13
Vanderbilt (1-3) at Ole Miss (2-3)
Line: Rebels -7.5 / 62
Time/TV: 6:30 / SECN
The worst team in the SEC East division, Vanderbilt, faces off
against the second worst team in the SEC West division, Ole Miss.
With all fairness to Vandy, Tennessee may be the worst team in the
East (which remains to be seen), but Ole Miss already beat Arkansas,
hands down the worst team in the west division.
Vanderbilt had to stretch itself to beat Northern Illinois, 24-18,
last week.  Ole Miss hung 31 points on Alabama in a losing cause but
14 of those points were in the last 6 minutes against Bama's 2's and
3's.  The Rebels haven't named the starting QB for this week and plan
on platooning Matt Corral and John Plumlee, who has shown flashes of
brilliance.  The Commodores over-rely on the run with KeShaun Vaughn
averaging about 6 yards a carry and haven't been able to break out a
passing attack with quarterbacks, Riley Neal and Deuce Wallace.
Congrats to Vaughn on the birth of new baby boy, Ke'lan. Changing
diapers ain't a bad thing, but all that baby karma won't help the
'Dores in Oxford..
Pick: Ole Miss 35 Vanderbilt 21