Doug Donley reflects on OSU Michigan rivalry
by
Dan M
| Posted on Monday, December 2nd, 2019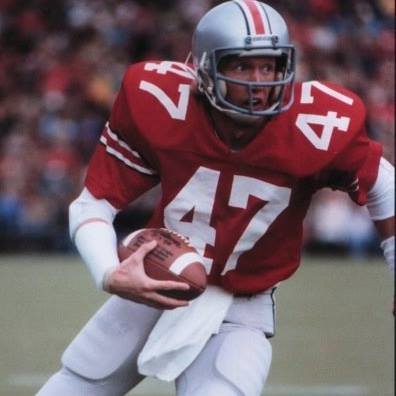 By TOM WARD                                                                                                                                                    TOMPWARD@SBCGLOBAL.NET
     During his playing days from 1977 to 1981 at Ohio State Doug Donley's nickname was "White Lightning" because of his tremendous speed at the wide receiver position. His game breaking abilities for the Buckeyes garnered him national attention and in 1981 was drafted in the 2nd round by the Dallas Cowboys. He played for a few years in the NFL before injuries forced him into early retirement.      
    Recently I spoke to my old friend to get his thoughts about the big game in Ann Arbor on Saturday where the undefeated #1 ranked Buckeyes take on the #13 ranked Michigan Wolverines.  Michigan head coach Jim Harbaugh has never beat the Buckeyes during his tenure.    
     Donley played in four games against Michigan in his collegiate career with his team winning once and losing 3 times. The two midwest state schools first met in 1897, and the rivalry has been played annually since 1918.  Michigan leads the series with a 58-50- 6 but Ohio State has won the last seven meetings.
TW: Was the preparation for the Michigan game any different than other games?
D.D: Oh my gosh! I played under Woody Hayes for my first two games and two games under Earle Bruce. In the two games with Woody I can't even explain to you the difference between a regular game and a Michigan game. The tension and intensity for the whole week made everything so uncomfortable that week like you were walking on eggshells. That week you dare not make a mistake like drop a ball or fumble in practice because he would go ballistic.  He really hated Michigan. One time we were in the locker room before the game talking to us and screaming at us while he's hitting the lockers. He punched his fist through the chalkboard and told us we are going to come out fighting.  At Michigan, when you come out of the locker room you share the same tunnel with the other team. We came out and went down the tunnel, but we are suppose to take a hard left and go to the bench. When Michigan comes down the tunnel they go straight and there is a student body section that formed a line and their players run through that line. Woody kept talking about fighting before we headed out. He leads us down the tunnel and instead of taking a hard left he runs straight into the student body and starts a fight. He said we were going to come out fighting we didn't know he meant literally." 
    Donley continued, "Under Earle Bruce he had banners across every door. They were all like five feet tall. The banner said, "How long will you continue to bow to Michigan?" The whole week in our locker room and training room they were blaring music so loud you could barely hear the Michigan fight song. Every time you walked through a door you had to duck down to get into a room.
TW:  How did Woody Hayes handle things if you lost the game?
D.D: You know Woody wasn't too bad after losses. He would feel so bad and he would never come in screaming or hollering or throwing things when we lost. He would put the blame on himself. All the intensity and the craziness was on the build-up and never after the loss.
TW:  Did you personally get along with Woody Hayes?
D.D: I loved him. Woody was great. All the players loved him.
TW:  You were on the field when Woody Hayes famously punched a Clemson player in the Gator Bowl in 1978 that ended his coaching career. Tell me what you remember about that moment?
D.D:  I was the intended receiver on that play. I was in the end zone wide open, but Art Schlichter (OSU QB) threw a interception to their nose guard. I didn't know what happened. As I came to the sideline there was all this commotion. Someone told me Woody hit a guy. I thought so what. He hit someone in practice every day. No, he hit a guy from the other team a player told me and it was crazy. When we landed in Columbus he got up on the loudspeaker and announced he was no longer the coach of Ohio State and he walked off the plane and we all just sat there in shock. Woody told us in the locker room that the reason he hit that guy was because his great, great grandfather killed his great, great grandfather in the Civil war.
TW:  Any particular moment that stands out for you from playing in those games against Michigan?
D.D:  I don't remember dropping many balls at Ohio State. The one memory I have of Michigan was we were playing at the horseshoe (in Columbus) and it was the first quarter. I was going down the sideline on a little wheel route and the ball was dropped right into my arms and went right through my hands. Now I had some good games, but most guys remember when they didn't do something. Fortunately, that was in the first quarter and not to win the game.
TW:  What is your assessment of this years' Ohio State team?
D.D: They have incredible talent and I think their coaching staff has done a great job. The playing calling and their defense scheme is much better this year. They've got great defensive backs. Their defense is 100% better than the previous regime. I think they have a great opportunity this year and coach Ryan Day has done a phenomenal job spreading the ball around. They've got two good running backs and bunch of good wide receivers. Justin Fields (QB) is doing great too. They really do have a great team.
TW:  Where will you watch this year's game?
D.D: I will be in my media room on my big love sack watching it. It's my favorite place to watch a game.
TW:  Finally, what's your predication for the game?
D.D: Buckeyes 31-17.
    These days Doug and his wife Dina are busy raising their 2 sons: Jake and Drew. Also, he's the owner and president of Advantage Hole in One in Dallas, Texas. Advantage Hole In One is the leading provider of hole in one insurance that guarantees to bring exceptional value to your golf outings and tournaments. Advantage HIO offers hole in one contests, putting and shoot-out contest, event signage, golf promotions, and fund raising programs. 
   To learn more about his company please visit www.advantagehio.com
Tom Ward can be contacted at www.teetimewithtom.com