Disapointing week for the Rangers
by
Dan M
| Posted on Friday, December 13th, 2019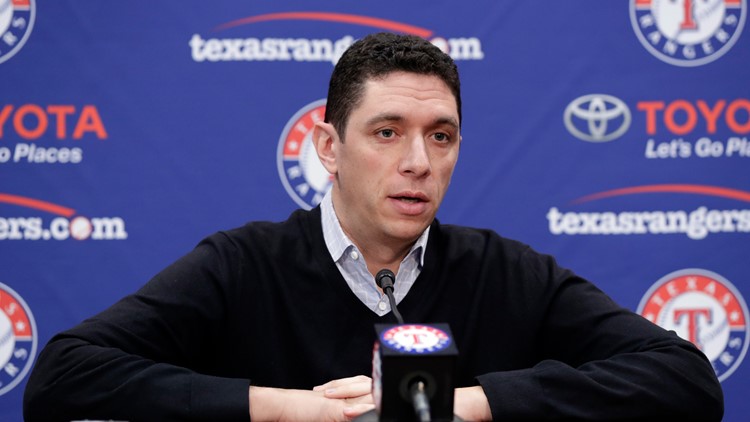 BY DIC HUMPHREY                                                                                                                                                          DHUMPHREY24@GMAIL
     Baseball's winter meetings came and went this week; and as predicted, there were fireworks.  On Monday, the news hit that Stephen Strasberg had re-signed with the Washington Nationals for $245 million.  He is represented by super-agent Scott Boras, who has changed his negotiating strategy this year.  In the past, Boras has strung out negotiations attempting to up the ante by having teams bid against each other.  Last year for example, he didn't get Bryce Harper signed until well into spring training.
    This year he challenged teams to make offers early.  He was willing to make deals.  And he did. The Yankees, Angels and Dodgers were thought to be the leading candidates to sign Gerrit Cole, the best pitcher among this winter's free agents.  Early rumors had the Yankees preparing a $245 million offer for Cole.  After Strasberg signed, the consensus was that the price for Cole would go up.  And Wow!  It went up big time.  Cole is almost two years younger, has pitched more consistently at a high level, and has less of an injury history than Strasberg.  The Yankees won the bidding with an offer of nine years at $324 million.  In both total contract value and average annual value, it's the largest contract ever given to a pitcher, eclipsing the records set by Strasberg a day earlier.   
    At that point, the teams had committed more than $1 billion to free agents this off season.  Almost $700 million of that total had gone to three starting pitchers – Strasberg, Cole and Zack Wheeler.  Last winter's slow market for free agents was in the rear view mirror.  
     Wednesday morning, the speculation had Texas as the favorite to sign third baseman Anthony Rendon, the best position player in this year's free agent class.  By Wednesday night, Rendon, who is also represented by Boras, had reached agreement with the Los Angeles Angels.  Rendon's contract was similar to Strasberg's – seven years totaling $245 million.  
     The Rangers had gone into the negotiations thinking that a five year deal could win the bidding.  They eventually pushed their offer to six years at more than $200 million and were apparently willing to offer a vesting option for the seventh year.   In the end though, there were multiple teams willing to offer a seventh year, so the Rangers were shut out.
    With Rendon off the board, the Rangers turned their attention to Josh Donaldson.  He's 4-1/2 years older than Rendon, so the Rangers were looking to sign him for just two years.  Donaldson wanted at least four years guaranteed, and perhaps five.  The Rangers likely would go three years, but by Thursday afternoon, the Rangers were out of Donaldson's picture.  Donaldson had not signed when the meetings came to an end Thursday, but appears to be close to picking a team….the Nationals and Dodgers are thought to be the leading candidates.
    Clearly, this week at the Winter Meetings was a huge disappointment for the Rangers.  With the new ballpark opening and with tickets still needing to be sold many at prices that are multiples of comparable seats at Globe Life Ballpark, the team wanted to make a splash bringing in a high end player.  It didn't happen this week, and the options are dwindling.
     Before the winter meetings began, the Rangers signed their second starting pitcher – Jordan Lyles.  The signing hasn't been officially announced as the deal is pending a physical exam, but it is reported to be a two years at $16 million.  Lyles was 12-8 with a 4.15 ERA in 28 starts last season for the Pirates and Brewers.  However, after joining the Brewers near the trade deadline, he made eleven starts with a 7-1 record and 2.45 ERA.  If he pitches anywhere near his late season performance he will be a steal.
    That likely sets the Rangers starting rotation with Mike Minor, Lance Lynn, Kyle Gibson, Lyles, and one of five strong minor league prospect candidates – Joe Palumbo, Kolby Allard, Brock Burke, Taylor Hearn and Ariel Jurado.  Texas may still add another veteran pitcher, though it is doubtful that the Rangers will be serious candidates for the upper end free agents still available.  However, it looks like a rotation that can consistently give the team a chance to win on a day to day basis.
     Texas then took another step toward solidifying their bullpen by signing Joely Rodriguez, who has pitched the last two seasons in Japan.  His fastball averaged 95 but on occasion was close to 100 last season.  The lefthander got a two year deal at $8.0 million.  
     Last Tuesday, they sent outfielder Nomar Mazara to the White Sox for prospect Steele Walker.  Walker is a centerfielder drafted out of the University of Oklahoma in the second round of the 2018 draft.  He is from Prosper, Texas and was assigned to AA Frisco.
    The Rangers roster had four players for three positions – left field, right field and designated hitter.  The players are Joey Gallo, Shin-Soo Choo, Willie Calhoun and Mazara.  All four are left-handed batters.  Mazara was the odd man out.  The trade cleared the log jam, as they attempt to become more right-handed in the batting order.  The trade also opened a space on the 40-man roster and saves the Rangers the $5 – $6 million that Mazara was likely to be awarded in arbitration.  He's been essentially a .260 hitter with 20 home runs in his four seasons with Texas.  Not bad, but in the current home run environment, those figures are not startling.  
     Still, it's surprising that a solid Major League outfielder would bring so little in return.  Walker was considered the White Sox sixth best prospect, but in the Rangers' system, he grades out only as the 12th best prospect. 
    With Rendon and Donaldson off the board, the Rangers likely will explore the trade market.  The Cubs' Kris Bryant is supposedly available as Chicago is looking to trim payroll.  The problem for now is Bryant's service time.  He likely has two years remaining before he can become a free agent, but he has filed a grievance to have that reduced to just one more year.  A decision on the grievance is expected by the end of 2019, but teams really cannot compute an offer until they know whether they are getting one or two years of his service.
    The real prize would be Nolan Arenado.  Colorado signed him to a contract extension last spring for eight years at $260 million.  The Rockies' 2019 season was disappointing, such that the team is looking to reassess their strategy about moving forward.  Perhaps, they are no longer contenders and need to rebuild.  Shedding Arenado's salary would boost that effort.  Arenado could well be looking to get with a team that has better chances to contend.
    The Rangers likely could put together a representative prospect package for Arenado, but the question is will it be enough.  He's considered the gold standard for third basemen in the Major Leagues these days, and there are teams such as the Dodgers, with deeper farm systems that are looking for a player of Arenado's caliber.
    Another third baseman that could be available in trade is the Yankees' Miguel Andujar.  In 2018, he garnered serious consideration as the Rookie of the Year, but an injury curtailed 2019, and Gio Urshela supplanted him in the Yankees' infield.  
    It's been a great week for baseball.  The big dollar free agent signings have kept MLB on the front page of sports pages in the thick of football season.  It's been a disappointment for the Rangers though.  They didn't realize much of a return in their trade of Nomar Mazara and lost out on signing Rendon or Donaldson.  General manager Jon Daniels told MLB's T. R. Sullivan, "I'm not going to sugar coat it – it sucks."