College Football Notes – Dec. 23, 2019
by
BoCarter
| Posted on Tuesday, December 24th, 2019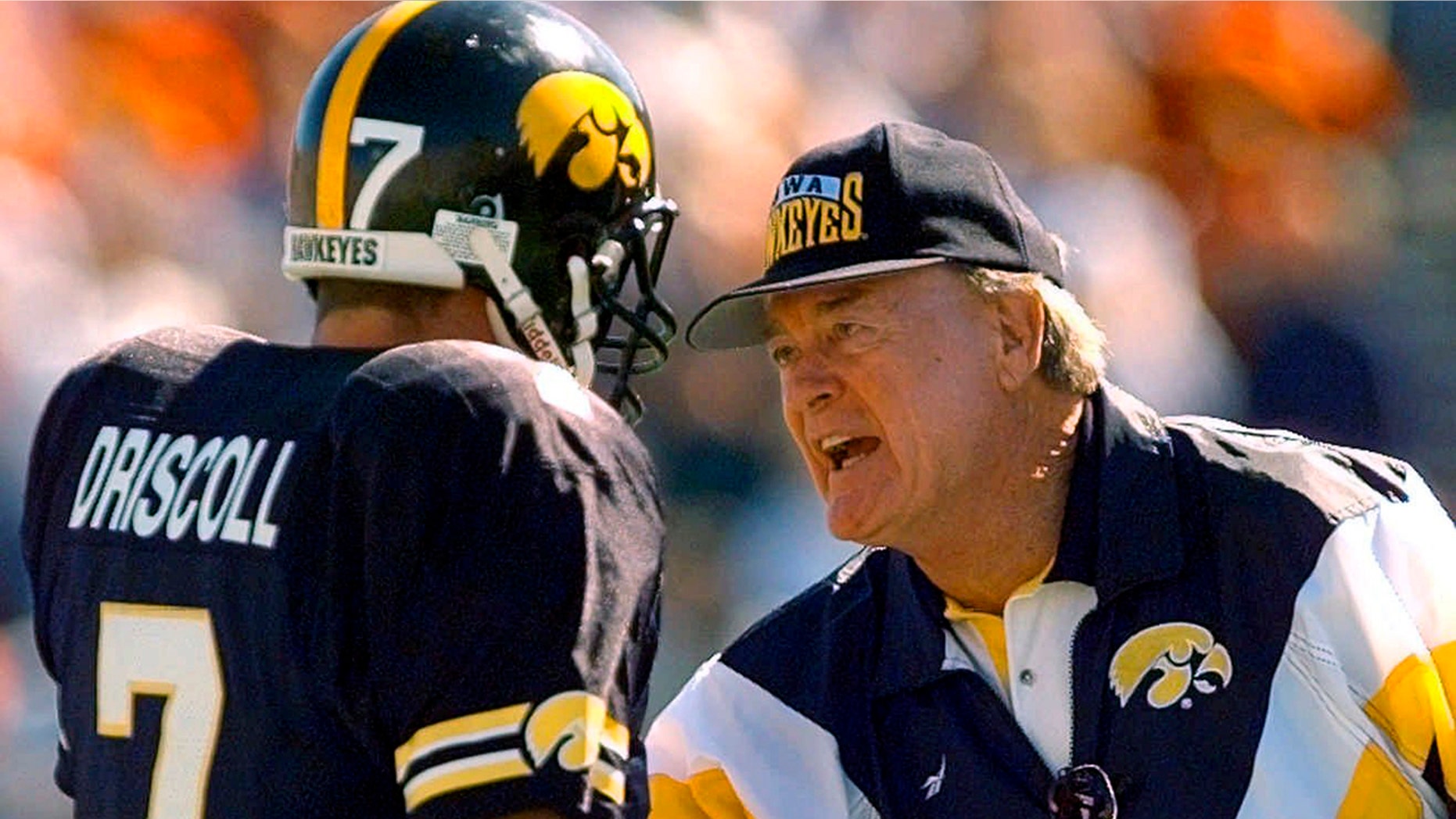 Legendary coach Hayden Fry, a 2003 College Football Hall of Fame inductee who led programs at SMU, North Texas and Iowa, passed away Dec. 17 in the Dallas area. The 90-year-old coach was the fourth-oldest living Hall of Fame coach. For 37 years, Coach Fry was one of the most recognizable faces in college football, and when he retired, his 232 wins placed him 10th all-time in college history.
A native of Eastland, Texas, and a descendant of one of Sam Houston's allies at the Battle of San Jacinto, Fry's career in leadership began at Odessa (Texas) High School, where he served as class president and quarterbacked the football team to the state title in 1946. He would later attend Baylor University, where he played quarterback for the Bears while earning a degree in psychology. Fry served in the Marine Corps from 1952-55, where he both played and coached football while attaining the rank of captain.
At just 26 years old, Fry became the head coach at Odessa High in 1956. He spent three seasons leading the team in West Texas before stints as an assistant coach at Baylor and Arkansas.
Fry became the eighth head coach in SMU football history when he was hired in 1962, and he would earn Southwest Conference Coach of the Year honors his first season. In 1966, he led the Mustangs to their first SWC title in 18 years and a trip to the Cotton Bowl. During his 11 seasons on the Hilltop, Fry led SMU to two other bowl appearances, including a win in the 1968 Bluebonnet Bowl. He also served as the university's athletics director for the majority of his tenure with the Mustangs.
It was at SMU where Fry made one of the biggest impacts on college football in the South. In 1965, he recruited future College Football Hall of Famer Jerry LeVias, making him the first African-American scholarship athlete and the second African-American football player in the Southwest Conference. The connection between Fry and LeVias would later culminate with the legendary duo inducted together as part of the 2003 College Football Hall of Fame Class.
In 1973, Fry became the head coach and athletics director at North Texas, where he orchestrated a massive turnaround. Prior to his arrival, the school had won just seven games in the previous three seasons and was considering dropping from Division I football or even ending the sport altogether.
Following his tenure at North Texas from 1973-78, Fry gained national acclaim for sparking a resurgence at Iowa, where his teams were 143-89-6 over 20 seasons (1979-98). In 1981, he coached the Hawkeyes to their first winning season in 19 years with a Big-Ten co-championship and a berth in the Rose Bowl, the school's first bowl appearance in 23 years. That season, he was named the Sporting News College Football Coach of the Year and claimed his first of three Big Ten Coach of the Year awards.
Fry won two other Big Ten titles in 1985 and 1990 to send the Hawkeyes to Pasadena. At Iowa, his teams ended the season ranked 10 times and made 14 bowl appearances. Before Fry's arrival, the Hawkeyes had been to just two bowl games in 90 years. His 143 wins at Iowa are the second most in school history behind current Hawkeyes head coach Kirk Ferentz, who served as the offensive line coach under Fry for nine seasons in the 1980s.
FRYfest, "a Celebration of all that is Hawkeye" and named after Fry, has been held annually since 2009 in the Iowa City and Coralville area the Friday prior to the beginning of Iowa's football season. In 2016, a 6-foot statue of the Hall of Fame coach was unveiled at FRYFest near Coralville's First Avenue, the primary artery that was renamed Hayden Fry Way in 2009.
Fry also was the inspiration for the fictional college coach Hayden Fox on the popular television series "Coach." That role was played by Craig T. Nelson with Jerry Van Dyke serving as his able sidekick assistant coach.
In addition to LeVias at SMU, Fry coached two other College Football Hall of Famers, Chuck Long and Larry Station, at Iowa. Overall, he coached three NFF National Scholar-Athletes: Michael Flagg (Iowa-1987), Derek Rose (Iowa-1998) and Charles Whitener (SMU-1972). Fry served as a member of the American Football Coaches Association (AFCA)'s Board of Trustees from 1984-93, serving as the Association's president in his final year on the Board.
A number of players or assistants coaches under Fry have gone on to become successful head coaches, including Barry Alvarez (Wisconsin), Bret Bielema (Wisconsin, Arkansas), Kirk Ferentz (Iowa), Bob Stoops (Oklahoma), Mark Stoops (Kentucky) and Bill Snyder (Kansas State).
NCAA DII-III, NAIA and NCAA FCS playoffs held and continued moving toward the  FCS championship after early-round encounters. The DII title contest Saturday, Dec. 21, in McKinney, Texas, featured Wesr Florida winning its first NCAA title in just the fourth yaer of varsity competition 48-40 over Minnesota State. The NCAA DIII championship found in Shenandoah, Texas, near Houston North Central (Ill.) thumping Wisconsin-Whitewater 41-14. The NCAA FCS championship will be held Saturday, Jan. 11, in Frisco, Texas, in suburban Dallas after North Dakota State and James Madison (schools who have won the last nine FCS crowns) advanced in semifinal tests. The 64th annual NAIA finale Dec. 21 in Grambling, La., saw as Morningside (Iowa) edge past (Ind.) 40-38. Morningside became the fourth NAIA program to repeat as champion along with St. Francis (Ind.), Carroll College (Mont.) and Georgetown (Ky.). For scores and additional information, please access NCAA.com, NCAA.com/fcs and NAIA.org.
NFF College Hall of Fame Facts
Some notable birthdates in NFF College Hall of Fame annals in the Dec. 23-29 time period are Dec. 23 (1935) Paul Hornung, Louisville, Ky.; (1948) Jack Ham, Johnstown, Pa.; Dec. 24 (1871) Charlie Gelber, Hawley, Pa.; (1919) Bill Dudley, Bluefield, Va.; (1924) Frank Broyles, Decatur, Ga.; Dec. 25 (1941) Dave Parks, Muenster, Texas; (1943) Howard Twilley, Houston, Texas; (1946) Larry Csonka, Stow, Ohio; Dec. 26 (1905) Tom Hamilton, Hoopeston, Ill.; (1924) Glenn Davis, Burbank, Calif.; (1927) Bill Yeoman, Elnora, Ind.; (1960) Scott Reppert, Appleton, Wis.; (1966) Rickey Dixon, Dallas, Texas; Dec. 27 (1947) Bob McKay, Seminole, Texas; Dec. 28 (1894) Ed Healey, Indian Orchard, Mass.; (1915) Vic Markov, Chicago, Ill.; (1920) Albert Wistert, Chicago, Ill.; (1935) Clendon Thomas, Oklahoma City, Okla.; Dec. 29 (1909) William Grinnell, Boston, Mass.; (1911) Tay Brown, Compton, Calif.; (1915) Bill Osmanski, Providence, R.I.; (1924) Warren Amling, Pana, Ill.
Notable anniversary death dates for Hall of Famers are Dec. 23 (1931) Knowlton Ames, Chicago, Ill.; (1942) Chris Cagle, New York City; (1948) Gil Dobie, Boston, Mass.; Dec. 24 (1970) Zora Clevenger, Bloomington, Ind.; Dec. 25 (1965) Joe Kendall, Owensboro, Ky.; (1988) Eddie Cameron, Durham, N.C.; Dec. 26 (1916) Stan Pennock, Newark, N.J.; (1995) Al DeRogatis, Spring Lake, N.J.; (2004) Reggie White, Cornelius, N.C.; Dec. 27 (2007) Bill Willis, Columbus, Ohio; Dec. 28 (1971) Joe Aillet, Ruston, La.; (1984) Ricky Bell, Los Angeles, Calif.; Dec. 29 (2016) LaVell Edwards, Provo, Utah.
Happy birthdays to NFF College Hall of Fame members Dec. 23 Paul Hornung (a spry 84), Dec. 25 Howard Twilley (a spry 76), Larry Csonka, Dec. 26 Bill Yeoman (a spry 92), Scott Reppert, Rickey Dixon, Dec. 27 Bob McKay, Dec. 28 Clendon Thomas (a spry 84)…
Georgia and Ohio State have scheduled a two-game series in 2030 and 2031…Memphis and Tennessee are looking at future series in football and other sports…Colorado and Colorado State are looking a future dates and sites for their football rivalry…North Dakota State, James Madison, Sacramento State, Weber State, and Montana State finished Nos. 1-5 in the final AFCA NCAA FCS Top 25. Each of these teams except No. 3 Sacramento State advanced to the FCS semifinals Dec. 20-21…NCAA Division II winner West Florida (playing in its fourth season of college football) became the first DII champ to win four playoff games on the road and then the title 48-40 over Minnesota State in McKinney, Texas. UWF freshman QB Austin Reed broke the DII title game record of 361 passing yards in the first half with 399 and ended with an all-time-high 523 yards and six TDs in the championship…Southern California has a 7-2 all-time series leads over Iowa prior to the two teams' meting in the 2019 SDCCU Holiday Bowl in San Diego, Calif…Kent State now leads the series 2-1 between KSU and Utah State after they split a pair of games in 1973 and '74, and then K-State edged the Aggies 51-41 in the Tropical Smoothie Café Frisco Bowl. Utah State won at Kent State 27-24 in '73, and then KSU returned the favor with a 27-16 victory at USU in 1974. The two schools have played 202 total seasons and 1,996 all-time games since Utah State started varsity football in 1912. Kent State began its grid program in 1920.
The Athens (Ohio) Food Pantry gained $400,000-plus in online challenge donations from fans who heard Heisman Trophy winner Joe Burrow of Athens speak of underserved families in that area and their financial challenges on the Heisman Award Show….Kent State and Utah State players assisted with stocking individual food packages for underserved families in the Frisco, Texas, area prior to their Dec. 20 appearance in the Tropical Smoothie Café Frisco Bowl. The teams also received authentic Texas Western-style hats as part of their travel gifts for the contest.
LSU head coach Ed Orgeron was named the 2019 FWAA Eddie Robinson and Associated Press National Coach of the Year…Fresno State chose Kalen DeBoer as its new head coach…SMU head coach Sonny Dykes received a contract extension after leading the Mustangs to a 10-3 season and the Cheribundi Boca Raton Bowl…Missouri assistant head coach/defensive line coach Brick Haley is set to return for the '20 season…New Mexico football is seeking a new start under first-year head coach, UNM alumnus and former Arizona State defensive coordinator Danny Gonzales. Gonzales was introduced to a large turnout at halftime of a New Mexico basketball game in Albuquerque…New USF head coach Jeff Scott is expected to hire an entirely new assistant coaching staff…Arizona State tabbed Zak Hill as offensive coordinator…Arkansas defensive line coach Steve Caldwell may be looking for a new assignment next season after the head coaching change at UA…Minnesota defensive line coach Jim Panagos accepted a new position at Rutgers…Southern California media reflected on the Trojans late-season comeback with five wins in the last six regular-season clashes and the future of head coach Clay Helton…Clemson tabbed recruiting coordinator/QB coach Brandon Streeter as passing game coordinator…Former Missouri head coach Barry Odom is taking over as Arkansas' defensive coordinator…Ohio State head coach Ryan Day is seeking an able replacement for top assistant Jeff Hafley, the new head coach at Boston College…Southern California hopes to retain popular offensive coordinator Graham Harrell…USF is completing arrangements for the payout for former head coach Charlie Strong…Former Minnesota head coach Tracy Claeys is the new linebackers coach at Virginia Tech. Tech also chose Darryl Tapp as a defensive assistant coach…Boise State head coach Bryan Harsin is requesting more external support from the university and Mountain West Conference after just missing one of the eight New Year's Six Bowl invitations…Connecticut head coach Randy Edsall spoke about competing as a FBS independent in 2020 after several seasons in the American Athletic Conference…Florida Atlantic head coach Willie Taggart's contract was revealed publicly with its possible incentives last week along with new Florida State head coach Mike Norvell and his base and incentives…Ole Miss named Jeff Lebby, formerly of UCF, as its new Ole Miss offensive coordinator…Missouri head coach Eliah Drinkwitz added Charlie Harbison as associate head coach and Erik Link as special teams coordinator…North Carolina's coaching staff has some built-in bowl bonus incentives for post-2019…San Jose State head coach Brent Brennan has been given a contract extension…South Carolina has acquired former Colorado State head coach Mike Bobo as offensive coordinator…UTSA named former Arkansas interim head coach Barry Lunney Jr. as offensive coordinator. UTSA also hired Daniel Da Prato (special teams coordinator), Julian Griffith (running backs), Jess Loepp (safeties), Nick Graham (cornerbacks), Matt Maddow (run game coordinator/offensive line), and Rod Wright (defensive line coach)…Arizona named Paul Rhoads defensive coordinator…Fresno Stat is completing contract negotiations with new head coach Kalen DeBoer…TCU wide receivers coach Jarrett Anderson is moving to coach the offensive line coach…Oklahoma State wide receivers coach Kasey Dunn is the new offensive coordinator at UNLV…Arizona State selected Tony White as defensive coordinator…Arkansas football added linebackers coach Rion Rhoades and cornerbacks coach Sam Carter to its 2020 coaching staff…Florida State has added Maryland's John Papuchis as special teams/defensive ends coach and Mississippi State's Chris Marve to coach linebackers…North Texas has hired Clint Bowen as defensive coordinator…Penn State's tight ends coach Tyler Bowen is the PSU interim offensive coordinator for he Goodyear Cotton Bowl.
Hometowns of more 2019 college head coaches – Sacramento State: Troy Taylor, Downey, Calif.; Samford: Chris Hatcher, Macon, Ga.; San Diego: Dale Lindsey, Bedford, Ind.; San Diego State: Rocky Long, Provo, Utah; San Jose State: Brent Brennan, Redwood City, Calif.
Indiana director of athletics Fred Glass will retire at end of the current 2019-20 academic year…Texas AD Chris Del Conte expressed excitement about the Longhorns new multi-purpose arena and key changes on UT's assistant coaching staff… New Cincinnati AD John Cunningham had his salary and additional compensation package approved…NC State Wolfpack Club executive director Bobby Purcell will retire in 2020…West Virginia head women's soccer coach Marlon LeBlanc will not return after 14 seasons at the helm…North Carolina's new chancellor Dr. Kevin Gustiewicz is an expert on brain and spinal injuries has served on several NCAA and NFL injury prevention committees. The Mellon Foundation is making an adjustment to a former $1.5 million grant to UNC…New Mexico athletics director of operations Laneah Bryan has returned to El Paso, Texas…Georgia Tech extended head baseball coach Danny Hall's contract through 2023 season…LSU is seeking a successor to departing president Dr. F. King Alexander…Colorado State AD Joe Parker explained the search and hiring process for obtaining new head coach Steve Addazio from Boston College. Parker also denied that former Ohio State head coach Urban Meyer tried to influence the final decision…Penn State AD Sandy Barbour explained a contract extension for head coach James Franklin, and the effect it might have had on PSU's signing dates' success last week…Alyssa Broccoli has been tabbed as director of operations at Drew.
Retiring Big Ten Conference Jim Delany said Maryland and Rutgers will be factors in football competition in future years. Delany also noted the importance to the program of the hiring of Greg Schiano at Rutgers…Conference USA is seeking its fifth ESPN Bowl Cup Challenge since 2011 as the circuit has eight competing schools in post-2019 bowls. C-USA and the Mountain West Conference are tied with four Cups each since ESPN began recording top winning percentages in bowls after the 2002 regular outing…The SEC and CBS Sports will not renew their football contract past the 2023 season…The Pac-12 Conference and Apple are having preliminary talks about future media rights.
Executive director Wright Waters of the Football Bowl Association was the subject of an in-depth feature in the Washington Post…The first post-2019 bowl games are in the books as the Makers Wanted Bahamas Bowl featured Buffalo of the Mid-American Conference decisioning Charlotte of Conference USA 31-9 and in the high-scoring Tropical Smoothie Café Frisco Bowl as Kent State outpointed Utah State 51-41 for the Golden Flashes first bowl victory…Three schools also captured their first bowl wins – Buffalo, Kent State and Liberty (playing in its first postseason clash as a new member of NCAA FBS)…Last Saturday's extended FCS and FBS postseason lineup included the Celebration Bowl with North Carolina A&T of the MEAC edging Alcorn State of the SWAC 64-44, San Diego State topping Central Michigan 48-11 in the New Mexico Bowl, Liberty downing Georgia Southern 23-16 in the Cure Bowl, vs. Liberty, the Cheribundi Boca Raton Bowl with Florida Atlantic topping SMU 52-28, the Camellia Bowl with Arkansas State outlasting FIU 34-26 in Montgomery, Ala., the Mitsubishi Motors Las Vegas Bowl with Washington defeating Boise State 38-7, and the R+L Carriers New Orleans Bowl with Appalachian State edging UAB 31-17 at the Mercedes-Benz Super Dome.
Louisiana Tech quarterback J'Mar Smith passed for 331 yards and three touchdowns, rushed for another score to tie his career-high with four total TDs to lead Tech to a in his final home game against UTSA. Charlotte DE Alex Highsmith had a school-record 4.5 sacks, five tackles for loss and a career-high 12 total tackles in the 49ers win at Old Dominion prior to the 49ers first-ever bowl bid…Marshall punter Robert LeFevre averaged 45.4 yards per punt and nailed four of his five coffin corner kicks inside the 20-yard line in an overtime win over FIU…Wisconsin RB Jonathan Taylor (two-time Doak Walker Award recipient in 2018 and '19) and LSU FB star Grant Delpit lead the 75th annual AFCA NCAA FBS 2019 All-America squads…Illinois State RB James Robinson (1,917 yards rushing, 18 TDs) and Montana LB Dante Olson (Big Sky Conference-record 179 touchdowns) are two of the leading stalwarts on the 2019 AFCA Football Championship Subdivision Coaches' All-America team. Robinson led the Missouri Valley Football Conference in rushing yards (1,917), yards per game (127.8) and touchdowns (18). He recorded eight 100-plus yard rushing efforts, including a school-record breaking 297-yard effort in the first-round at Southeast Missouri State. After leading the FCS in tackles for two-straight seasons, Olson repeated as an AFCA All-American after breaking the Big Sky record for tackles in a season with 179.Notre Dame (Ohio) running back Jaleel McLaughlin and West Texas A&M all-purpose player Tobias Harris highlighted the 2019 AFCA Division II Coaches' All-America teams. The AFCA has selected an All-America team since 1945 and currently selects teams in all five collegiate divisions…NC State LB Payton Tanner Wilson is hoping for spring 2020 reinstatement to the team…St. John's (Minn.) quarterback Jackson Erdmann and Lake Forest (Ill.) defensive lineman Jordan McInerney are two of the standouts on the 2019 AFCA NCAA Division III Coaches' All-America teams. Kansas Wesleyan quarterback Johnny Feauto and Missouri Valley punter Drake Higgins headlined the 2019 AFCA NAIA Coaches' All-America teams, the 75th annual selections by the national group. Feauto, who helped lead Kansas Wesleyan to a conference title and a trip to the NAIA quarterfinals, leads the nation in total offense (4,523 yards), passing yards (4,089) and pass efficiency (196.4) and was Kansas Collegiate Athletic Conference Player of the Year…Wyoming QB Tyler Vander Waal has entered the 2020 NCAA transfer portal…Utah State QB Jordan Love will leave school and enter the 2020 NFL draft…North Texas DE LaDarius Hamilton was saluted for his 2019 season progress in a recent North Texas Daily report…Rice's 2020 recruiting class sports two speedsters with 4.3-second clockings in the 40-yard dash – Andrew Mason and Sean Fresch…Some of Charlotte's top 2020 signees coming off the 49ers inaugural bowl appearance are TE Donta Armstrong of Charlotte, OL Panda Askew of Greenville, N.C., DB Briston Bennett of Nashville, Tenn., and DB Trey Creamer…Among Iowa's leading 2020 signees are DL Yahya Black of Marshall, Minn., DB Reggie Bracy of Mobile, Ala., and
DL Isaiah Bruce…EJ Smith, son of the NFF College and Pro Football Hall of Fame RB Emmitt Smith of Florida, signed with Stanford last week. EJ Smith starred at historic Dallas (Texas) for three seasons and helped the Rangers make the 2019 Texas high school playoffs…Oklahoma is awaiting word on three possible suspensions for the 2019 Chick-Fil-A Peach Bowl. Several schools are awaiting final grade reports for fall semester to determine bowl rosters' availability.
North Carolina has given NFF College Hall of Fame head coach Mack Brown a one-year contract extension through 2024…Longtime bowl executive and director of athletics Keith Tribble is a new senior associate vice president with Brentwood Partners.
Walt and Ginger Waltosz have made a $10 million gift to Auburn's football program…Florida Atlantic athletics has a new $5 million corporate sponsorship from RoofClaim.com for the renaming of FAU Arena…Georgia Tech athletics received an anonymous donation as a $10 million challenge grant for a new athletics headquarters…West Virginia football student-athletes and coaches got to take sledge hammers and demolish the older wooden lockers in the Mountaineers dressing room as 2019-20 renovations are about to start…Eastern Michigan athletics received an ample private donation to build a new golf training facility…Wisconsin athletics presented updated renderings on the latest concepts for Camp Randall Stadium renovations…Old Dominion athletics is reducing season ticket prices for 2020 for reserved sideline seats…Navy athletics was uaable to process star pitcher Noah Song's request to play professional baseball.
The Seattle Times argued that an eight-team CFP scenario could results in some lopsided contest…Another national media outlet wrote about concerns of college online courses and the capacity for illegalities…The Chicago Tribune penned a narrative about the 31-year tenure of Big Ten Conference commissioner Jim Delany.
The 76th annual FWAA All-America team presented by the Goodyear Cotton Bowl 76th was headlined by 12 players from the Big Ten Conference – nine of them on the first team – and 11 from the Southeastern Conference with Heisman Trophy-winning quarterback Joe Burrow of LSU pacing the first unit…The AFCA is accepting credentials through its media relations office for the 2020 national convention in Nashville, Tenn.…Bill Dyer of Virginia Tech, Sam Atkinson of Gallaudet, CoSIDA Hall of Famer Charlie Fiss of the Goodyear Cotton Bowl, Judy Willson of LSU, Eric Rhew of UNCW, and Beau White of CoSIDA were featured subjects and opinion makers in the CoSIDA Open Forum online newsletter…Army West Point, California, Duke, Georgetown (D.C.), Georgia, Houston, Kansas, Memphis, Michigan State, Minnesota, Navy, NC State, Nebraska,  Nevada, and TCU are working with NCAA enforcement and compliance officials concerning possible issues and reports at their respective schools…TCU received a one-year probation from the NCAA Compliance Committee last Friday.
2019-20 College Football Playoff Bowl Schedule with New Year's six(All Games Televised by ESPN, All Times EST) CFP
Saturday, Dec. 28 (CFP Semifinals)PlayStation Fiesta Bowl – State Farm Stadium, Glendale, Ariz., 4 or 8 p.m.Chick-Fil-A Bowl, Mercedes-Benz Stadium, Atlanta, 4 or 8 p.m.
Monday, Jan. 13 – CFP Championship, Mercedes-Benz Superdome, New Orleans, La., 8 p.m.
Saturday, Dec. 28-Jan. 1, 2019-20 (Other New Year's Six Bowls) Dec. 28 – Goodyear Cotton Bowl – AT&T Stadium, Arlington, Texas, noon
Monday, Dec. 30 – Capital One Orange Bowl, Hard Rock Stadium, Miami Gardens, Fla., 8 p.m.
Wednesday, Jan. 1 Rose Bowl Presented by Northwestern Mutual, Rose Bowl, Pasadena, Calif., 5 p.m.Allstate Sugar Bowl – Mercedes-Benz Superdome, New Orleans, La., 8:45 p.m.
###