Mustangs ready for conference play
by
Dan M
| Posted on Friday, December 27th, 2019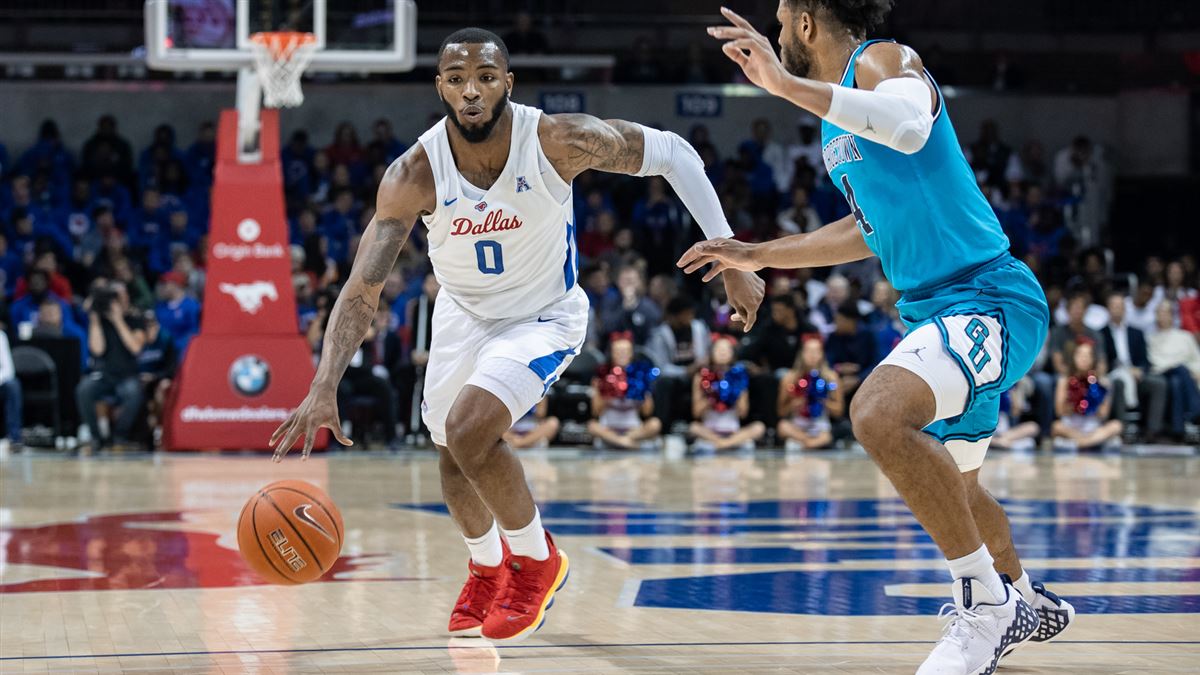 BY DIC HUMPHREY                                                                                                                                                   DHUMPHREY24@GMAIL                                                                                                                                                                  MEMBER:  United States Basketball Writers Association
     UNIVERSITY PARK, Texas –  With final exams and the holidays, the Mustangs only played four games in December.  They went 2-2 for the month, bringing their record to 9-2 for the season.  Their next game is on New Year's Day against South Florida to open conference play.  
    The month started with a 77-51 win over Northwestern State on December 3, which brought the team's record to 8-0.  Four days later, the Mustangs lost for the first time to Georgetown 91-74.  The Hoyas came out smoking hot from the field and built a 20-2 lead over the first seven minutes…..the Ponies never recovered.  At one point, SMU cut the lead to 15 points, but that was as close as they could get.  Going in to that game they were one of just 16 undefeated teams in the country.
    The Mustangs then took an extended vacation from game action for finals.  Their next game was 13 days later against Georgia on the road in Athens.  In some respects, that game was the best the Mustangs have played all year.  They led most of the way, but let a five point lead slip away in the final 30 seconds to send the game into overtime.  Georgia took their final lead of the game, hitting a layup with two seconds remaining in the second overtime to win 87-85.
    This week, the Ponies again played at home against their third straight opponent ranked in the top 100 in the country.  Georgia State came into the game on a seven game winning streak, and was ranked higher in the Sagarin Ratings than SMU.  This time, it was SMU that got off to the good start, taking a 13 point lead at the 9:25 mark, 19-6.  The Panthers then pressed to give SMU trouble and actually took their only lead of the game with 1:04 remaining until halftime 34-33.  SMU committed 14 turnovers in the first half.
     SMU closed out the half with a pair of Isiaha Mike baskets to lead 37-34.  The Mustangs continued the run by scoring the first 10 points of the second half to lead by 13 at 47-34.  The outcome was pretty well in hand at that point.  Seven points was as close as Georgia State would get over the balance of the game, though they cut the lead to less than 10 points for all but 10 seconds over the final four minutes.
    SMU Head Coach Tim Jankovich said after the game, 
    "This is a good team.  We got very sloppy.  Our defense was good all night.  Our rebounding was okay.  Our resolve in the second half and especially down the stretch was very good."        
    Jankovich for sure did not want to go into conference play on a three game losing streak.     
    It's difficult to believe, but with 11 games in the books, it's still a challenge to assess where this team is.  The 11-2 record breaks down like this:  7-1 at home, 2-1 on the road, 1-2 against teams ranked in the top 100.
    Team Rankings rates the Mustangs as the number 97 team in the country and the seventh best team in the American Athletic Conference.  They predict SMU to finish 18-12 overall and 8-10 in the conference.    
     The Sagarin Ratings this week had SMU at number 88, which also places them seventh in the conference.  The reason SMU ranks so low with a 9-2 record is the pitiful non-conference schedule.  The last three games against teams ranked in the top 100 have moved their schedule ranking up only to 328 in the country.  
   "I feel good.  We're still not the team that we can become," Jankovich told the media.  "There's a lot of room for improvement.  A lot!  I hope that we're good at accelerating that.  But I like our team.  I like a lot of things going on.  Obviously, there's a lot of things that can add to us, and hopefully they will.  I'm very pleased so far."
    The Mustangs have added 6'-10" Isiah Jasey to the roster.  Jasey is eligible after sitting out the fall semester as a transfer.  His addition essentially puts three players for one spot in the lineup with the other two being Ethan Chargois and Everett Ray.  
    Jankovich said about the situation, 
    "He's (Jasey) doing fine.  It's a difficult thing to just walk in and be in rhythm and be in flow when the season is already nine or ten games along.  He's not doing anything wrong.  Ethan's doing a lot of things well.  Everett played really well in the Georgia game.  In the limited minutes I gave him, he was very good tonight (against Georgia State).  Everyone wants to play minutes, and I want to give them minutes; but you don't want to overdo it either.  So it's a real challenge for me now.  I'm not disappointed in any of them; but again, I don't want to make it a rotating door."
    Mike is the Mustangs most consistent player so far, though he is followed closely by Feron Hunt.  Mike has scored in double digits in every game and is averaging 16.2 points per game and 7.9 rebounds.  Hunt is averaging 15.1 points and 7.9 boards.    
    Kendric Davis has settled in at the point after missing the first four games waiting on approval from the NCAA on his petition to be eligible this year as a transfer.  He's averaging 15.4 points per game, but is leading the team with 51 assists (7.3) per game.  Tyson Jolly is averaging 15.2 points per game, having scored in double digits in all but one game, and seven rebounds per game.  
    As for the conference, Memphis is looking to be the team to beat as predicted before the season began.  They have however taken a big hit by losing James Wiseman, a seven footer that was thought to be the likely number one selection in the next NBA draft.  Wiseman left the team to prepare for the NBA.  The Tigers are 10-1 and ranked ninth in this week's AP poll.  
   The only other AAC team receiving votes this week is Wichita State.  They received more points than any team not ranked and are also 10-1.  They have impressively won seven true road games.  Houston is 10-3 and is expected to contend for the AAC championship.  Connecticut is 8-3, but looks to be coming together.  Central Florida is somewhat of a surprise at 7-2.  They lost Tacko Fall and Aubrey Dawkins from last season, and consequently were thought to be rebuilding.  Temple and Cincinnati have new head coaches.  Temple is 10-3.  Cincinnati is somewhat disappointing at 7-5.  Both have played a challenging non-conference schedule.  
   Jankovich admitted, "I don't watch many of our (conference's) games just because I don't have time.  But judging from scores, it's going to be a typical really, really hard league.  It's a really tough league.  It's a great league, and it's a defensive league that is very well coached on that end.  There's a lot of teams in our league that hang their hat on defense, toughness, rebounding.  All those kind of things.  That's what our league's about.  There's a lot of really good teams.  There's been some great wins.  I think there has probably been a number of close, disappointing losses; but when all the smoke clears, it's another great year in our conference."
   SMU is off until January 1, when they open conference play against South Florida.  The Bulls are currently 6-6 and play one more game before coming to Dallas to also play their first conference game of the season.  After the conference opener, SMU plays one last non-conference game against Vanderbilt in Nashville on January 4.  
NOTABLE:
The announced attendance for the Georgetown game (5,855) was the largest for any game this season, 5,855.

 

The average attendance after eight SMU home games is 4,133.

 

That is a reduction of 2,523 fans per game in two years after the re-seating program was instituted.

 

The Mustangs' string of six straight seasons of reaching 100,000 for the year is probably over.

 

It is mathematically impossible to reach 100,000 in the regular season, as sellouts for each of the final nine home games added to the actual attendance for the first eight games would only push the total attendance to 94,400.