College Football Notes – Dec. 30, 2019
by
BoCarter
| Posted on Monday, December 30th, 2019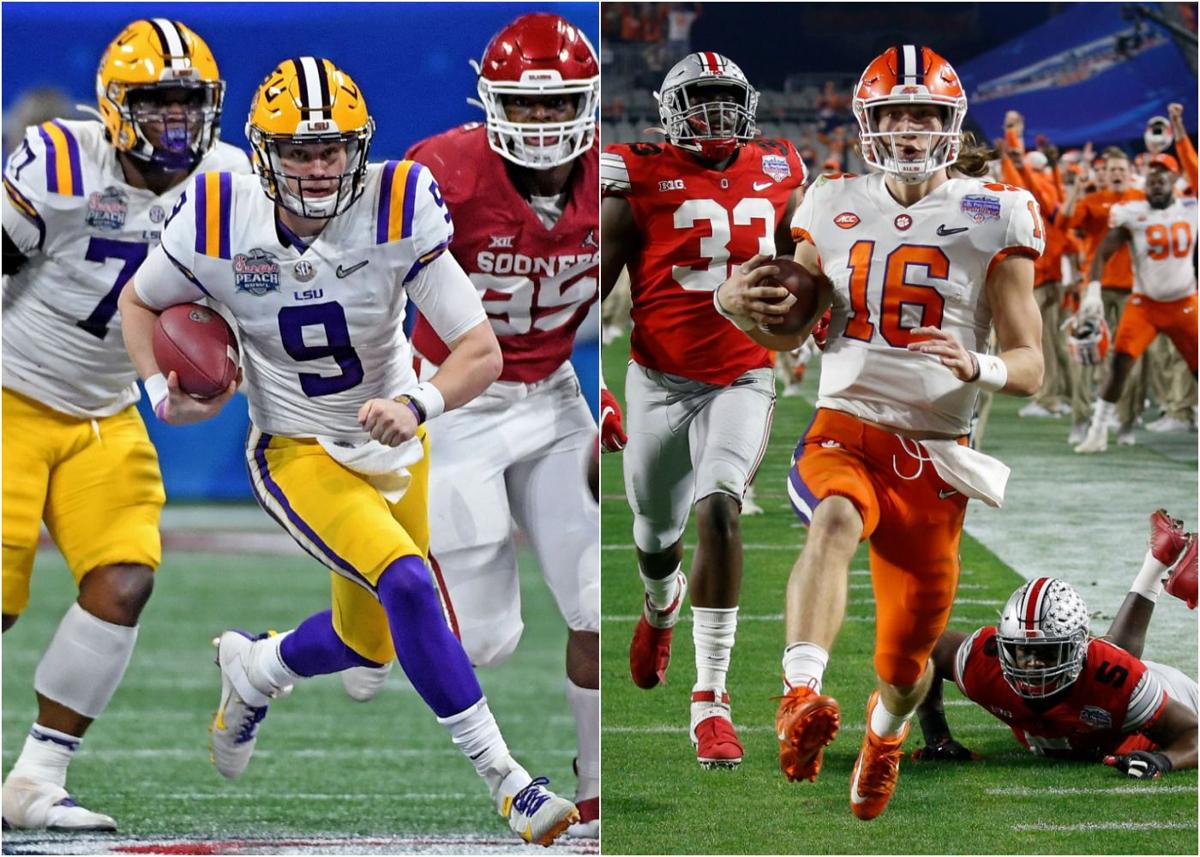 The sixth annual College Football Playoff title contest has been set for Monday, Jan. 13, 2020, between LSU and Clemson in the Mercedes-Benz Superdome. Previous winners have been Ohio State in the 2014 season, Clemson in 2015 and '18 and Alabama in 2015 and 2017. In January a team nicknamed the Tigers will win the CFP crown.
On Friday, Jan. 10, the announcement of the 2020 College Football Hall of Fame Class will be made prior to College Football Playoff National Championship. On Tuesday, Jan. 14, there will be the presentation of the 61st annual MacArthur Bowl to national champion, New Orleans media hotel, at a Tuesday morning time TBD.
The FCS playoffs' finals are set for Saturday, Jan. 11, in Frisco, Texas, at Toyota Stadium in suburban Dallas-Fort Worth with North Dakota State and James Madison (schools who have won the last nine FCS crowns) facing off the 2019 crown. For scores and additional information, please access NCAA.com, NCAA.com/fcs and NAIA.org.
NFF College Hall of Fame Facts
Some notable birthdates in NFF College Hall of Fame annals in the Dec. 30-Jan. 5, 2020, are Dec. 30 (1896) Homer Norton, Birmingham, Ala.; (1941) Mel Renfro, Houston, Texas; (1946) Barry Alvarez, Langeloth, Pa.; (1966) Dr. Joe Micchia, Sharon, Pa.; (1972) Kerry Collins, Lebanon, Pa.; Dec. 31 (1875) Charles Rinehart, Uniontown, N.J.; (1918) Ray Graves, Knoxville, Tenn.; (1928) Hugh McElhenny, Los Angeles, Calif.; (1932) Don James, Massillon, Ohio; Jan. 1 (1901) Century Milstead, Rock Island, Ill.; (1901) Frank Sundstrom, Middleton, N.Y.; (1925) Jack Cloud, Britton, Okla.; (1927) Doak Walker, Dallas, Texas; (1936) Don Nehlen, Canton, Ohio; (1940) Mike McKeever, Cheyenne, Wyo.; (1962) Pierce Holt, Marlin, Texas; (1967) Derrick Thomas, Miami, Fla.; Jan. 2 (1890) Vince Pazzetti, Wellesley, Mass.; (1912) Tony Blazine, Canton, Ill.; (1930) Bob Williams, Cumberland, Md.; (1959) Darrin Nelson, Sacramento, Calif.; Jan. 4 (1898) Jess Neely, Smyrna, Tenn.; (1898) Jack Harding, Avoca, Pa.; (1925) Johnny Lujack, Connellsville, Pa.; Jan. 5 (1891) Hube Wagner, Monaca, Pa.; (1892) John Beckett, Eight Mile, Ore.; (1910) Ed Widseth, Gonvick, Minn.; (1919) Al Blozis, Garfield, N.J.; (1921) Paul Governali, New York City; (1924) Arnold Tucker, Miami, Fla.; (1938) E.J. Holub, Schulenburg, Texas; (1926) Buddy Young, Chicago, Ill.; (1965) Tracy Ham, Gainesville, Fla.
Notable anniversary death dates for Hall of Famers are Dec. 30 (1925) Frank Hinkey, Southern Pines, N.C.; (1976) Harry Baujan, Dayton, Ohio; Dec. 31 (1967) Bishop Frank Juhan, Sewanee, Tenn.; (1992) Bill Spears, Harriman, Tenn.; Jan. 1 (1968) Andy Oberlander, Mt. Vernon, N.Y.; (1991) Edgar Miller, Annapolis, Md.; Jan. 2 (1977) Dale Van Sickel, Newport Beach, Calif.; (1999) Raymond "Rags" Matthews, Ft. Worth, Texas; (2019) George Welsh, Charlottesville, Va.; Jan. 3 (1954) Gus Dorais, Birmingham, Mich.; (1969) Buzz Borries, West Orange, Fla.; ( 2003) Sid Gillman, Carlsbad, Calif.; Jan. 4 (1943) Bill Edwards, New York, N.Y.; (2000) Tom Fears, Palm Desert, Calif.; (2013) Pete Elliott, Canton, Ohio; (2018) Carmen Cozza, New Haven, Conn.; Jan. 5 (1975) Claude "Monk" Simons, New Orleans, La.
Happy birthdays to NFF College Hall of Fame members Dec. 30 Mel Renfro (a spry 78), Barry Alvarez, Dr. Joe Micchia, Kerry Collins, Jan. 1 Don Nehlen (a spry 83), Pierce Holt, Jan. 2 Darrin Nelson, Jan. 5 Tracy Ham…
Buffalo will host Fordham in 2023…Gardner-Webb will meet Limestone College and Wofford in 2020…Iowa and Minnesota will play Friday, Sept. 18, instead of Sept. 19 to accommodate a BTN national cablecast… Georgia and Austin Peay outlined contractual details on the payout for their 2025 contest in Athens, Ga….Clemson has captured 29 consecutive games since late 2017 for the seventh-longest skein in NCAA FBS annals. North Dakota State has won 37 games since 2017 as the Bison prepare for the NCAA Division I championship Jan. 11 in Frisco, Texas…BYU upended powers and bowl teams Tennessee, USC and Boise State en route to the 2019 SoFi Hawai'i Bowl appearance against host Hawai'i…Hawai'i finished 10-5 overall in 2019 for its best season since a 10-4 mark in 2010. The Rainbows joined Florida Atlantic as teams hosting post-2019 bowls…The Memphis Tigers set a school record for wins in a season with 12 and played in its first traditional New Year's Day bowl in a 53-39 setback to Penn State in the Goodyear Cotton Bowl…Penn State is edging toward the covered 900-win all-time record with a 898-393-42 (.691 winning percentage). The Nittany Lions are closing in on becoming the eighth team in NCAA FBS annals to register 900 victories…Air Force's 98-yard, 20-play drove over 13:02 against Washington State in the Cheez-It Bowl tied Ball State for the longest scoring drive in NCAA FBS in 2019.
Newtown (Conn.) High School captured the state Class LL championship on Dec. 19, 2019 – the seven-year anniversary of the Sandy Hook Elementary School tragedy in Newtown on Dec. 14, 2012. Star LB Ben Pinto of Newtown dedicated the state title contest 13-7 over Darien to his late brother Jack Pinto who perished in the 2012 shooting, and the entire city remembered the victims of the tragedy during and after the state crown contest…Memphis and Penn State players and coaches continued the tradition of hospital visits to Dallas Children's Medical Center and Dallas Scottish Rite Hospital for the 35th consecutive season…The Goodyear Cotton Bowl Foundation donated $250,000 to youngsters and inspiring educators in underserved neighborhoods across North Texas through $250,000 in from the Foundation and matching grants of $100,000 by the College Football Playoff Foundation. At last week's Goodyear Big Play Luncheon, the Foundation announced the $375,000 in total grants have been awarded to After School All Stars North Texas, Trinity River Mission, Cristo Rey Dallas, Young Women's Preparatory Network, Momentous Institute, and Principal Impact Collaborative.
Former USF head coach Jim Leavitt officially has been hired as new defensive coordinator at Florida Atlantic…Ron Veal, the private QB coach who has worked with Ohio State's Justin Fields and Clemson's Trevor Lawrence was featured in a national story about teaching football skills…USF added Joey King as the team's tight end coach…Charlie Weis Jr. is the new offensive coordinator at USF…Memphis head coach Ryan Silverfield became the first head coach in 84 years to make his debut in the Goodyear Cotton Bowl. Silverfield and Penn State head coach James Franklin became the 99th and 100th head coaches to guide their teams in the Classic since 1937…Texas A&M head coach Jimbo Fisher captured his 100th head coaching win as the Aggies downed Oklahoma State 24-21 in the Academy Sports and Outdoors Houston Bowl last week. He is now 100-32 in 10 seasons at Florida State and A&M from 2010-19 and averages a 10-3 coaching mark annually…Kendal Briles has been named assistant coach and offensive coordinator at Arkansas… USF named Truman Carroll, former Arkansas Razorbacks football strength and conditioning coach, to the same post at the Tampa university…Florida Atlantic defensive coordinator Glenn Spencer is leaving FAU for that position at USF…Former Maryland special teams/inside linebackers coach John Papuchis has joined the Florida State coaching staff…South Carolina head coach Will Muschamp is hoping a solid recruiting class will help put the Gamecocks over the .500 mark in 2020…Southern Illinois athletics hopes to extend the contract of head coach Nick Hill…Former Washington offensive coordinator Bush Hamdan and tight ends coach Jordan Paopao are seeking new posts for 2020 at other schools…Georgia named former Ole Miss head coach Matt Luke as its 2020 offensive line coach…Former New Mexico head coach Bob Davie is receiving a monetary settlement for the last two years of his contract…Former West Virginia: wide receivers coach Xavier Dye has accepted an assistant coaching slot at USF…Miami (Fla.) has released Dan Enos as offensive coordinator. Miami AD Blake James is backing head coach Manny Diaz on any additional coaching staff changes…Missouri is bringing former Kansas strength and conditioning coach Zac Woodfin on board for 2020…
AFCA 2019 Werner Ladder District Coaches of the Year are:
Football Championship Subdivision
Region 1: Buddy Teevens, Dartmouth
Region 2: Kevin Callahan, Monmouth (N.J.)
Region 3: Mark Hudspeth, Austin Peay
Region 4: Matt Entz, North Dakota State
Region 5: Jay Hill, Weber State
Division II
Region 1: Jim Clements, Kutztown (Pa.)
Region 2: *Drew Cronic, Lenoir-Rhyne (N.C.)
Region 3: Jim Svoboda, University of Central Missouri
Region 4: *Todd Knight, Ouachita Baptist (Ark.)
Region 5: *Todd Hoffner, Minnesota State
Division III
Region 1: Jeff Behrman, Union (N.Y.)
Region 2: Nate Milne, Muhlenberg (Pa.)
Region 3: Michael Clark, Bridgewater (Va.)
Region 4: Peter Stuursma, Hope
Region 5: Bob Owens, Chapman
NAIA
Region 1: Doug Socha, Keiser
Region 2: *Mark Henninger, Marian (Ind.)
Region 3: Tom Sallay, Culver-Stockton & Myers Hendrickson, Kansas Wesleyan (tie)
Region 4: *Steve Ryan, Morningside (Iowa)
Region 5: Mike Nesbitt, Ottawa (Ariz.)
*-2018 winner
The AFCA will announce the 2019 National Coaches of the Year winners in FBS, FCS, Division II, Division III and NAIA at the American Football Coaches Awards on Tuesday, Jan. 14, in Nashville, Tenn.
Hometowns of more 2019 college head coaches – Sewanee: Travis Rundle, Albion, Mich.; Simpson: Matt Jeter, Des Moines, Iowa; South Alabama: Steve Campbell, Pensacola. Fla.; South Carolina: Will Muschamp, Roma, Ga.; Southeastern Louisiana: Frank Scelfo, Abbeville, La.
Cincinnati director of athletics John Cunningham was highlighted in a recent Cincinnati Enquirer feature story…BYU administrator and head men's basketball coach Dave Rose told media that his energy level and dedication to winning are at high levels…South Dakota State named former Wyoming assistant coach Dan Georgalas as new women's volleyball head coach…Former Baylor head baseball coach Steve Smith has been named head coach at Tennessee Tech…Ole Miss acquired former Nebraska assistant coach Kayla Banwarth as new women's head volleyball coach…Oklahoma chose Mark Carr as head coach for women's soccer…Stockton (Calif.) chose Rich Gawlak as head baseball coach…Pittsburgh AD Heather Lyke spoke of the stability of the Panthers football program under head coach Pat Narduzzi in his fifth season…Arkansas head women's track and cross country coach Lance Harter continues to excel in his position as he nears the age of 70 and has set national championship goals in 2020 after the UA women won the 2019 NCAA Cross Country Championship.
The North Eastern Athletic Conference tabbed Stephanie Dutton as commissioner…The Big Ten and Southeastern Conferences lead all FBS loops in overtime games in bowls with 14 and an identical 8-6 record. The Mid-American Conference has played the fewest bowls with bonus stanzas – three – but is 3-0 all-time. The overtime rule for NCAA Division I football went into effect with the post-1995 bowl tussles, and after a 40-37 win by Toledo of the MAC against then-WAC member Nevada in a single overtime, there were no postseason extra period clashes from 1996-1999 prior to a 28-25 single overtime triumph by Georgia over Purdue in the 2000 Outback Bowl…Connecticut's movement away from the American Athletic Conference to independent status in the 2020 FBS ranks was discussed in a recent national media report…The Southeastern Conference is weighing all options for its post-2013 football television contract after the current agreements with CBS Sports expire. The Pac-12 Conference and Utah also are watching future SEC television negotiations from afar for possibilities on their ends… Big Ten Conference retiring commissioner Jim Delany and his wife Kitty Fisher are moving to the Nashville, Tenn., area to join other sports celebrities in the area such as Kirk Herbstreit.
The AutoZone Liberty Bowl injected an estimated $25 million-plus into the Memphis, Tenn., economy. Navy travelled to meet Kansas State in this 61-year-old postseason classic aboard the special Patriots Plane…The Quick Lane Bowl registered a record attendance of 34,765 for the Eastern Michigan-Pittsburgh contest Dec. 26…Leading in the ESPN Football Bowl Cup standings through games of Dec. 29 are the Big Ten Conference at 3-1 in four games, the Atlantic Coast Conference at 3-2 and the Mountain West Conference at 3-2. Sun Belt Conference and FBS independents are an identical 2-1 through three games while the Southeastern Conference started at 2-0 with seven bowl games still on the docket from Dec. 30-Jan. 13…Six Flags Over Texas conducted Goodyear Cotton Bowl Fan Day last Friday with family rates and special shows for attending fans at the Arlington, Texas, theme park…Tulane will return to Texas after playing SMU in the Green Wave's regular-season finale Nov. 30 at Dallas to meet Southern Miss of Conference USA on Saturday in the Lockheed Martin Armed Forces Bowl at TCU's Amon Carter Stadium in Fort Worth…LSU and Oklahoma set a New Year's Six/CFP bowl record for most combined points in one half with 63 points (LSU led 49-14) in the Chick-Fil-A Peach Bowl… The first 2020 postseason all-star game is the Jan. 18 East-West Shrine Bowl at Tropicana Field in St. Petersburg, Fla., with a 3 p.m. (EST) airtime on the NFL Network.
Memphis kicker Riley Patterson set an all-time bowl record with six field goals (on six attempts) against Penn State in the Goodyear Cotton Bowl…Texas A&M received another scholarship signee (21st for 2020) with the inking of LB Antonio Doyle from the St. Louis, Mo. Area….SMU signed junior college standout DE DeVere Levelston from Tyler (Texas) JC…Stanford OT Walker Little will play in the Cardinal's bowl bout and will return for his senior season in 2020…Texas A&M RB Jacob Kibodi entered the NCAA transfer portal. The Aggies had two scholarship running backs – Isaiah Spiller and Cordarrian Richardson – competing in the Academy Sports + Outdoors Houston Bowl last week…Former Arkansas oral commitment QB Chandler Morris of Dallas (Texas) Highland Park HS announced he will wait until February to sign his 2020 national letter-of-intent. His father Chad Morris just became the offensive coordinator at Auburn…UNLV had four players suspended by the Mountain West Conference after an altercation following the UNLV-Nevada game last month…Texas A&M QB Kellen Mond had a season-longest run of 67 yards against Oklahoma State in the Academy Sports and Outdoors Hoiston Bowl and rushed for a career-best 117 yards on 12 carries…BYU quarterback Zach Wilson became the youngest QB to start for the Cougars at age 18 against Hawai'i in 2018 and was under center last week as the Rainbows ended a five-game BYU series winning streak over UH with a38-34 triumph in the SoFi Hawai'i Bowl…Hawai'i QB Cole McDonald accounted for five touchdowns (four passing, one rushing) in the Rainbows victory over BYU on Dec. 24…LSU running back Clyde Edwards-Helaire played sparingly in the Chick Fil-A Peach Bowl in Atlanta and is expected to be at full speed for the CFP championship contest Jan. 13. Tigers Heisman Trophy-winning QB Joe Burrow threw for a bowl-record seven touchdowns in the first half of LSU's victory over Oklahoma in the CFP semifinals…Richie Grant keyed UCF's 48-25 win over Marshall in the Gasparilla Bowl with a 39-yard interception return for a touchdown…Penn State All-America LB Micah Parsons made 14 total tackles, two sacks and forced two fumbles to cop Defensive MVP and PSU running back Journey Brown logged 202 yards rushing on 16 carries to nail down Offensive MVP kudos in the Goodyear Cotton Bowl last Saturday…Wisconsin's entire starting offensive interior line in 2019 for the Rose Bowl presented by Northwestern Mutual consists of Wisconsin residents…Boston College RB AJ Dillon will declare for the 2020 NFL draft…Missouri LB Nick Bolton was featured as a first team All-SEC standout in 2019…North Texas WR Jaelon Darden paced the Eagles on the first unit of the 2019 All-Conference USA squad…SMU tight end Kylen Granson was congratulated for a three-touchdown reception game against East Carolina and for his leadership as a 2019 graduate transfer from Rice…Former Dallas (Texas) Bishop Dunne HS standouts and twins Josh and John Emmanuel will take their talents to Texas State in '20…Baylor QB Charlie Brewer has been limited somewhat in earlier bowl practices after undergoing concussion protocol in the 2019 Dr Pepper Big 12 Football Championship…Clemson TE Braden Galloway was reinstated for the PlayStation Fiesta Bowl against Ohio State. Tigers DB Nolan Turner made a game-saving interception in that CFP bowl semifinals win over OSU and is the son of the late former Alabama teammate of Clemson head coach Dabo Swinney and NFL standout Kevin Turner…Allstate and the AFCA named Kentucky offensive tackle Landon Young as the 2019 AFCA Good Works Team® captain…Navy QB Malcolm Perry had one of the longest runs from scrimmage in the American this year with a 70-yard burst against SMU…Houston punter Dane Roy vied for national special teams' honors after averaging 44.4 yards on eight punts and placing six kicks inside the 20-yard-line against Tulsa…UCF freshman QB Dillon Gabriel passed for a season-high 317 yards on 24-of-46 passes against Tulane…Tulane RB Stephon Henderson raced 98 yards for a touchdown on a kickoff return against UCF.
NFF College Hall of Fame head coach Mack Brown proved that he possesses postseason savvy with a 55-13 win in the Military Bowl presented by Northrop Grumman over Temple of the American Athletic Conference. Brown is now 14-8 in 22 bowl games, including the 2005 Bowl Championship Series title over Southern California and then-head coach Pete Carroll 41-38. The popular veteran of 31 seasons advanced to 4-2 as head coach in six UNC bowl bashes and raised his active FBS coach's top national victories' total to 251…Wisconsin AD and NFF College Hall of Fame coach Barry Alvarez discussed the national prestige of the Rose Bowl presented by Northwestern Mutual.
Clemson football had expenditures of a total of $5 million for the travel party and others on its last two trips to Arizona…Utah Valley athletics is adding resources in 2020 to put USU on the national college athletics map….West Virginia athletics posted schematic updates on the renovation of the Milan Puskar Center…Alabama had a special offer of $10 tickets to a men's and women's teams doubleheader in celebration of the holidays and Bama football success…Montana State is looking for some fundraising assistance for new NCAA cost of attendance measures…College athletics and the NBA are looking to boost television ratings in the remaining bowls and rest of the 2019-20 basketball season…St. Cloud State (Minn.) is seeking immediate funding to continue its varsity football and golf programs.
Former Vanderbilt standout and The Bachelor television show star Jordan Rodgers handled his first analyst's assignment on the 2019 AT&T Cotton Bowl national radio broadcast with Texas Hall of Fame play-by-play man Brad Sham…The BTN provided its most extensive coverage of December football signing days to date in the Big Ten Conference area last week…BYU and Louisville were mentioned prominently among the 10 mid-majors' collegiate programs expected to excel in the 2020s in a prediction story by Baseball America…A district court judge overturned a $15.5 million settlement by former Los Angeles Times sports columnist T.J. Simers who claimed he was laid off from the newspaper for health and age reasons…The Oklahoma City Oklahoman surveyed the number of online classes taken in college football – especially by graduate transfers working on Masters degrees…Bill Pennington of the New York Times penned a story about how adding football has enhanced such universities as Texas Wesleyan and 2019 NCAA Division II champion West Florida.
NCAA Division III champ North Central (Ill.) topped the final AFCA DIII Top 25 poll ahead of national runnerup Wisconsin-Whitewater, St. John's (Minn.), Mary Hardin-Baylor (Texas), and Muhlenberg (Pa.)…Chris Pika of the Makers Wanted Bahamas Bowl, Drew Harris of the Lockheed Martin Armed Forces Bowl, Rob Wilson of Florida State, Ira Thor of Jersey City, and Jason Plotkin of the University of New Orleans were featured subjects and opinion makers in the CoSIDA Open Forum online newsletter…Georgia Tech, Kansas, Louisville, Mississippi State, New Mexico, New Mexico State, Oklahoma, Oregon State, Penn State, and Wyoming are working with NCAA enforcement and compliance officials concerning possible issues and reports at their respective schools.
2019-20 College Football Playoff Bowl Schedule with New Year's six(All Games Televised by ESPN, All Times EST) CFP
Saturday, Dec. 28 (CFP Semifinals)Chick-Fil-A Bowl, Mercedes-Benz Stadium, Atlanta, LSU 63, Oklahoma 28.
PlayStation Fiesta Bowl – State Farm Stadium, Glendale, Ariz., Clemson 29, Ohio State 23
Monday, Jan. 13 – CFP Championship, Clemson vs. LSU, Mercedes-Benz Superdome, New Orleans, La., 8 p.m.
Saturday, Dec. 28-Jan. 1, 2019-20 (Other New Year's Six Bowls) Saturday, Dec. 28 – Goodyear Cotton Bowl – AT&T Stadium, Arlington, Texas, Penn State 53, Memphis 39 Monday, Dec. 30 – Capital One Orange Bowl, Hard Rock Stadium, Miami Gardens, Fla., 8 p.m.Wednesday, Jan. 1, Florida vs. Virginia; Rose Bowl Presented by Northwestern Mutual, Rose Bowl, Pasadena, Calif., 5 p.m., Wisconsin vs. Oregon; Allstate Sugar Bowl – Mercedes-Benz Superdome, New Orleans, La., 8:45 p.m., Baylor vs. Georgia.
###