College Football Notes – Jan. 7, 2020
by
BoCarter
| Posted on Tuesday, January 7th, 2020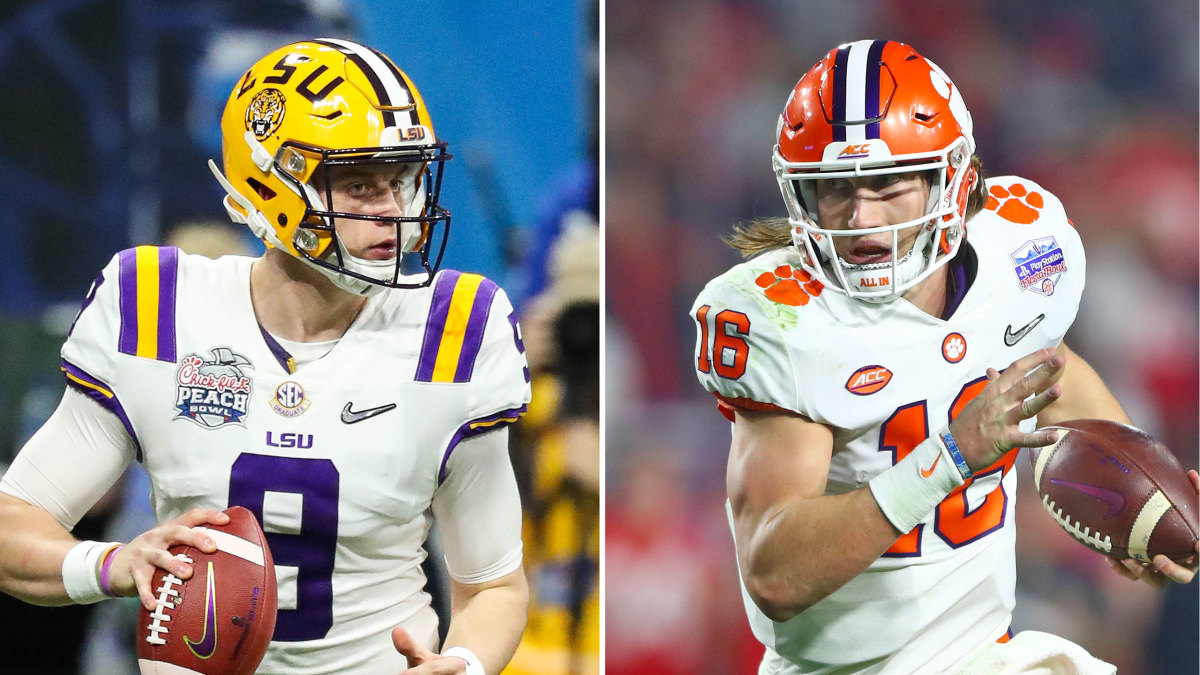 The sixth annual College Football Playoff title contest has been set for Monday, Jan. 13, 2020, between LSU and Clemson in the Mercedes-Benz Superdome. Previous winners have been Ohio State in the 2014 season, Clemson in 2015 and '18 and Alabama in 2015 and 2017. In January a team nicknamed the Tigers will win the CFP crown.
On Tuesday, Jan. 14, there will be the presentation of the 61st annual MacArthur Bowl to national champion, New Orleans media hotel, at a Tuesday morning time TBD.
The FCS playoffs' finals are set for Saturday, Jan. 11, in Frisco, Texas, at Toyota Stadium in suburban Dallas-Fort Worth with North Dakota State and James Madison (schools who have won the last nine FCS crowns) facing off the 2019 crown. For scores and additional information, please access NCAA.com, NCAA.com/fcs and NAIA.org.
NFF College Hall of Fame Facts
Some notable birthdates in NFF College Hall of Fame annals in the Jan. 6-12, 2020, time period are Jan. 6 (1910) Doyt Perry, Croton, Ohio; (1913) John Weller, Atlanta, Ga.; (1937) Lou Holtz, Follansbee, W.Va.; (1947) Frank Loria, Clarksburg, W.Va.; (1964) Charles Haley, Lynchburg, Va.; Jan. 7 (1884) Albert Exendine, Bartlesville, Okla.; (1930) Eddie LeBaron, San Rafael, Calif.; Jan. 8 (1909) Ben Ticknor, Canton, Mass.; (1922) Steve Suhey, Janesville, N.Y.; (1927) George Taliaferro, Gates, Tenn.; (1959) Mark Herrmann, Cincinnati, Ohio; Jan. 9 (1916) Brud Holland, Auburn, N.Y.; (1956) Ken MacAfee, Portland, Ore.; (1956) Gary Spani, Satanta, Kan.; Jan. 10 (1892) Alex Weyand, Jersey City, N.J.; (1909) Harvey Jablonsky, Clayton, Mo.; (1921) John Tavener, Newark, Ohio; Jan. 11 (1895) Paddy Driscoll, Evanston, Ill.; (1973) Dave Dickenson, Great Falls, Mont.; Jan. 12 (1895) Bo McMillin, Prairie Hill, Texas;  (1899) Fritz Crisler, Earlville, Ill.; (1943) Tucker Frederickson, Ft. Lauderdale, Fla.
Notable anniversary death dates for Hall of Famers are Jan. 6 (1990) Gerald Mann, Dallas, Texas; Jan. 7 (1979) Andy Gustafson, Coral Gables, Fla.; (1990) Bronko Nagurski, International Falls, Minn.; Jan. 8 (1977) Steve Suhey, State College, Pa.; Jan. 10 (2006) Dave Brown, Lubbock, Texas; (2007) Ray Beck, Rome, Ga.; (2019) Arnold Tucker, Miami, Fla.; Jan. 12 (1965) John Tigert, Gainesville, Fla.; (1980) Lawrence "Biff" Jones, Washington, D.C.
Happy birthdays to NFF College Hall of Fame members Jan. 6 Lou Holtz (a spry 83), Frank Loria, Charles Haley, Jan. 8 Mark Herrmann, Jan. 9 Ken MacAfee, Gary Spani, Jan. 11 Dave Dickenson…
Boston College will meet Rutgers in 2022 and Northern Illinois in 2023…East Carolina will face Appalachian State at Bank of America Stadium in Charlotte, N.C., in 2021. The Pirates also will travel to Michigan in 2023…Wisconsin outgained Oregon 119-7 yards in total offense for the first 18 minutes of the second half of the Rose Bowl presented by Northwestern Mutual, but the opportunistic Ducks prevailed 28-27 behind three touchdown runs by QB and 2019 NFF William V. Campbell Trophy recipient Justin Herbert…College Football Playoff finalist Clemson may be the youngest team in NCAA FBS this season. The Tigers sport 80 freshmen or sophomores on their 120-player roster…Louisiana Tech won 10 games for the first time since it moved from then-NCAA ME-AA to the equivalent of NCAA FBS ranks in 1989. The Bulldogs also are the only current FBS member with a six-game bowl winning streak.
Eleven Conference USA student-athletes were named to the 2019 C-USA Football All-Academic team with players coming from 10 different programs and Florida Atlantic's Harrison Bryant being named to the team for the second year in succession. Charlotte punter Connor Bowler had a perfect 4.00 grade point average as an electrical engineering major.
Former Baylor head coach Matt Rhule is moving to the NFL Carolna Panthers as head coach…New Boston College head coach Jeff Hafley was present at the TicketSmarter Birmingham Bowl to watch many of his 2020 protégés compete against Cincinnati after he guided Ohio State as co-defensive coordinator in the CFP semifinals against Clemson…Ohio head coach Frank Solich has guided Bobcats to a school-best 11 bowls in the last 14 seasons and five consecutive postseason treks on two different occasions, and he also signed a contract extension with the Bobcats last week…The AFCA will announce the 2019 National Coaches of the Year winners in FBS, FCS, Division II, Division III and NAIA at the American Football Coaches Awards on Tuesday, Jan. 14, in Nashville, Tenn….California named Bill Musgrave offensive coordinator…Florida State completed its staff with the addition of  David Johnson as running backs coach…Iowa State tight ends coach/recruiting coordinator Alex Golesh accepted the offensive coordinator's post and at UCF…Kansas added Ben Iannacchione as strength and conditioning coach…Louisiana extended head coach Billy Napier's contract two years through 2025…Memphis named Southern California's Sam Curtis director of football operations to replaces Jeff Kupper who went to Florida State…Miami (Fla.) contacted Virginia offensive Robert Anae and SMU offensive coordinator Rhett Lashlee for the same position with the Hurricanes…Minnesota chose Mike Sanford Jr. as its offensive coordinator from the Utah State staff. He was formerly head coach at WKU…North Carolina outside linebackers/special team's coach Scott Boone will not return for the 2020 season…Notre Dame cornerbacks coach Todd Lyght is seeking a new school for '20…Former Rutgers' standout Tiquan Underwood is returning to his alma mater as wide receivers coach…Tennessee offensive line coach David Johnson is heading to Florida State…Toledo is adding Tampa, Fla., high school coach Robert Weiner as quarterbacks coach…USF selected former West Virginia quarterback star Pat White as running backs coach…Vanderbilt cornerbacks coach Terrence Brown is leaving for the Washington Huskies program…Wyoming named Eric Donval director of sports performance, offensive line coach Bart Miller will be the Cowboys of run game coordinator, and Aaron Bohl is the team's new linebackers coach.
Former Martland head coach D.J. Durkin is going to Ole Miss as a defensive assistant coach. Ole Miss also hired former Texas A&M tight ends coach Joe Jon Finley for its 2020 staff…Army West Point tabbed Nate Woody as defensive coordinator…Former Fordham and Mississippi State head coach Joe Moorhead will not return for the Bulldogs in 2020…Alabama head coach Nick Saban recalled some great Michigan-Michigan State rivalry games when he was head coach at MSU…Former Southern California graduate assistant coach Chad Hawkins is coming to Arizona State as defensive backs coach…Florida Atlantic named Clint Trickett and Drew Mehringer as co-offensive coordinators and Kevin Patrick as outside linebackers coach…Memphis has offered the tight ends assistant coaching position to David Glidden…Miami (Fla.) athletics has had discussions about inviting former UM great and NFL executive Alonzo Highsmith for the football program and assisting director of athletics Blake James…Purdue named  Bob Diaco defensive coordinator…Vanderbilt added former Louisiana Tech assistant coach Todd Fitch as offensive coordinator…Michigan head coach Jim Harbaugh addressed various relationships with members of the national news media…Baylor head coach Matt Rhule spoke to his team about his eight-year contract extension at BU and interest from various NFL teams…Florida State named Josh Storms director of football strength and conditioning…Michigan assistant coach for safeties and special teams and standout recruiter Chris Partridge is moving to the Ole Miss staff…Former Washington offensive coordinator Bush Hamdan is a new offensive assistant coach at Missouri… Ohio State's former quality control coach Corey Dennis is the Buckeyes new quarterback coach…Maryland special teams coordinator John Papuchis accepted the same position on the Florida State staff…Tennessee assistant coaches received composite $528,995 in bowl bonuses…Former Vanderbilt  offensive line coach Cameron Norcross is headed for UNLV…Former Florida State defensive and offensive coordinators, respectively, Harlon Barnett and Kendall Briles reflected on their careers with the Seminoles in a recent Orlando, Fla., Sentinel missive…LSU's coaching staff will receive $1.42 million in bonus payments for making the CFP national championship…Former NC State defensive line coach Kevin Patrick will coach the same position at Florida Atlantic…Ohio State passing game coordinator Mike Yurcich is the new offensive coordinator at Texas…Vanderbilt is replacing offensive coordinator Gerry Gdowski and defensive coordinator Jason Tarver in 2020…Florida State named T.J. Rushing defensive backs coach…NC State chose Brian Mitchell as cornerbacks coach and Joe DeForest as safeties coach…Former Southern California defensive coordinator Clancy Pendergast and special teams coordinator John Baxter are seeking new schools for the 2020 season…USF has picked Da'Quan Bowers as defensive line coach…Former Kansas strength and conditioning coach Zac Woodfin is moving to Missouri in the same capacity…Penn State hired former Minnesota assistant coach Kirk Ciarrocca as offensive coordinator…Virginia Tech is nearing completion of its assistant coaching staff under head coach Justin Fuente.
Hometowns of more 2019 college head coaches – USF: Jeff Scott, Arcadia, Fla.; Southern U. (Baton Rouge): Dawson Odums, Shelby, N.C.; Southern California: Clay Helton, Gainesville, Fla.; Southern Illinois: Nick Hill, DuQuoin, Ill.; Southern Miss: Jay Hopson, Vicksburg, Miss.
Cincinnati director of athletics John Cunningham helped celebrate the Bearcats TicketSmarter Birmingham Bowl victory over Boston College with head coach Luke Fickell and his staff…Ohio State AD and former NFF John L. Toner Award recipient Gene Smith spoke of possible changes in future bowl game officiating assignments…TCU AD Jeremiah Donati gave a State of the Frogs review for 2019 with the Fort Worth (Texas) Star-Telegram…Hawai'i men's head basketball coach Eran Ganot has returned to the bench after missing 13 games with an undisclosed illness.
Big Ten Conference coordinator of officials Bill Carollo and national football supervisor of officials Dr. Rogers Redding noted that an on-field ruling of a fumble should have stood in the recent PlayStation Fiesta Bowl.
The Tax Slayer Gator Bowl will match Southeastern and Atlantic Coast Conference teams from 2020-25, and Tax Slayer renewed its corporate sponsorship of the contest for three years…Illinois officials spoke of the logistical challenges of taking a 371-member official travel party to the Redbox Bowl in Santa Clara, Calif….Nova Home Loans Arizona Bowl founder attorney Ali Farhang has vowed to keep the bowl's local color while providing outstanding intersectional competition…The first 2020 postseason all-star game is the Jan. 18 East-West Shrine Bowl at Tropicana Field in St. Petersburg, Fla., with a 3 p.m. (EST) airtime on the NFL Network. The NFLPA Collegiate Bowl from the Rose Bowl in Pasadena, Calif., follows at 7 p.m. (EST) on the NFL Network with American vs. National teams…Wyoming football players and head coach Craig Bohl were greeted by an enthusiastic crowd upon returning from an Arizona Bowl over Georgia State…Louisiana Tech (10-3 final mark) recorded its first shutout in any game since defeating New Mexico State 44-0 in 2011 along with the first shutout in the 44-year-old Independence Bowl's history 14-0 over Miami (Fla.). It also was the first time in 163 all-time bowl games that a Conference USA school blanked an opponent…Tough-luck Boston College encountered the second first quarter weather delay in a bowl in two years as Cincinnati downed the Eagles 38-6 in the TicketSmarter Birmingham Bowl. Last year's SERVPRO First Responder Bowl in Dallas between BC (leading at the time 7-0) and Boston College was called off some eight minutes into the contest when an eight-hour storm hammered the DFW Metroplex.
Some of the top rushing performances in just-completed bowls came from quarterbacks. Kentucky signal caller Lynn Bowden had the most carries (34) and net yards rushing (233 with two touchdowns) of any player in FBS postseason activity to date. Following him was Navy QB Malcolm Perry with 28 rushing attempts for 213 yards while Wyoming RB Xazavian Valladay posted another 200-plus-yards showing with 26 carries for 204 yards and one score. Bowden later apologized to Virginia Tech players and coaches for a pregame episode…Among the best bowl receivers in terms of yards on catches have been Justin Jefferson of LSU with 14 catches for 227 yards and four TDs in a CFP semifinal clash against Oklahoma, Alabama's Jerry Jeudy with six catches for 204 yards and a 85-yard TD reception from QB Mac Jones on 'Bama's first play from scrimmage against Michigan and Minnesota's Tyler Johnson with a career-high 12 grabs for 204 yards and two scores against Auburn…Top FBS postseason passers in terms of total yards have been LSU's Joe Burrow with 29-of-39 attempts for 493 yards and seven TDs against Alabama, Cole McDonald of Hawai'i with 28-of-46 through the air for 493 yards to tie Burrow for the top spot and four TDs against BYU and Memphis' Brady White with 32-of-51 aerials for 454 yards against Penn State…Cincinnati QB Desmond Ridder ran for three touchdowns and passed for another to lead the Bearcats past Boston College in the TicketSmarter Birmingham Bowl…All-State QB Chandler Morris of Dallas Highland Park HS has signed as the first quarterback in Oklahoma's 2020 recruiting class…Big 12 Conference ore-2019 Defensive Player of the Year and two-time All-Big 12 linebacker Kenneth Murray has declared for the 2020 NFL draft…Notre Dame TE Cole Kmet is entering the 2020 NFL draft and will skip his senior season with the Fighting Irish…Nebraska LB commitment Keyshawn Greene spoke of the rebuilding hopes for Huskers football in coming years under head coach and former NU quarterback Scott Frost…Louisiana Tech DB Amik Robertson was named to the FWAA All-America team…Alabama rising senor Dylan Moses will return for '20 while QB Tua Tagovailoa has declared to enter the 2020 NFL draft…Georgia was missing 13 Georgia players from NFL declarations and other reasons against Baylor in the Allstate Sugar Bowl…Ohio State RB J.K. Dobbins will enter the 2020 NFL Draft pool…Josh LeBlanc is transferring from Georgetown (D.C.) to the LSU program…Brenden Knox of Marshall paced Conference USA with 1,387 yards rushing on 270 carries with 11 TDs and a 106.7 game average; the circuit's leading passer by yards per game was Louisiana Tech QB J'Mar Smith with 236-of-367 passing for 2,977 yards with 18 TDs, five interceptions and a 270.6 average. C-USA's top receiver for 2019 was Lucky Jackson of WKU with 94 catches for 1,133 yards, four TDs, and 7.2 receptions per outing…Tulane QB and Lockheed Martin Armed Forces Bowl MVP Justin McMillan was 14-for-18 passing for 215 yards and in the third quarter alone he was 7-of-8 for 166 yards and three TD passes…Southern Miss QB Jack Abraham was sidelined on the last play of the first half in the Lockheed Martin Armed Forces Bowl with an arm injury after leading the Golden Eagles to an early 13-0 advantage. Abraham still finished second in Conference USA passing yards per game with 268-plus…Arkansas wide receiver Deion Stewart is seeking reinstatement before 2020 spring workouts…Navy's standout quarterback Malcolm Perry set a NCAA all-time single season rushing record for a quarterback after finishing the year with 2,017 yards. The record was previously held by Northern Illinois QB Jordan Lynch in 2013 when he rushed for 1,920. Perry also finished the year with 21 rushing touchdowns…Minnesota's Tyler Johnson was Outback Bowl MVP while leading the Golden Gophers past the Auburn Tigers 31-24. The senior wide receiver finished the game with 12 receptions, 204 receiving yards, and two touchdowns, including the game-winner…True freshman Cory Munson boomed a career-longest 52-yard field goal for WKU on the game's final play to give the Hilltoppers a 23-20 thriller over Western Michigan. Of 112 all-time bowl games played since 1937 in the Dallas-Fort Worth area, it was just the second postseason tussle decided on a final-play field goal. The other came by Alabama against Texas Tech for a 13-10 triumph in the 2006 Goodyear Cotton Bowl Classic…Micale Cunningham threw for 279 yards and two touchdowns and ran for 81 more as Louisville topped Southeastern Conference rival Mississippi State 38-28 Monday in the Franklin American Music City Bowl as the Cardinals (8-5 overall) rallied from a 14-0 deficit by scoring 31 straight markers to close a turnaround from 2-10 last season…Georgia rolled to a 19-0 lead at halftime with two Rodrigo Blankenship (2019 Lou Groza Award winner) field goals and Jake Fromm passing touchdowns to George Pickens and Matt Landers before downing Baylor 26-14 in the Allstate Sugar Bowl…Under interim head coach Glenn Spencer, the Florida Atlantic defense played one of its best games of the season in a 52-28 Boca Raton Bowl victory over SMU. Rashad Smith had a fumble return for a touchdown, and QB Chris Robison was 27-of-37 for 305 yards passing and two touchdowns with a pair of FAU Bowl records.
NFF College Hall of Fame member Chad Hennings of Air Force was among those mourning the passing of former AFA defensive assistant coach Jim Miller who was Hennings' position coach with the Falcons from 1984-87.
North Texas athletics is offering several discount plans for winter sports while UNT student are on their winter break…St. John's (N.Y.) will half its annual Winter Bullpen Baseball Banquet Jan. 24 in the Edison Room on campus…Kansas' men's basketball team had to make an emergency landing in Sa Jose, Calif., during a recent road swing…Public beer and wine sales for South Carolina athletics have turned into a solid profit making base…Boise State is beginning major renovations on the east side of Albertsons Stadium…Colorado State, Kentucky and Memphis athletics spoke of the investments made to improve overall team performances in 2019-20.
Longtime NFF member and radio analyst Loran Smith reflected on the Southeastern Conference's final upcoming years on its football contract with CBS and how much the network has meant to the circuit in the Athens, Ga., Banner-Herald…Noted football historian Mike Burrows of the Denver Post: Nebraska RB Tony Davis was MVP of both the Dec. 31, 1974, Sugar Bowl in a 13-10 win over Florida in the final game played at Tulane Stadium before the Mercedes-Benz Super Dome opened in 1975 as well as the Jan. 1, 1974, Cotton Bowl as Nebraska's topped Texas 19-3…Kurt Kragthorpe is retiring after 40 years as a sports writer for the Salt Lake City Tribune.
The AFCA is preparing to celebrate its award breakfast Monday, Jan. 13, prior to the College Football Championship contest in New Orleans, La.…Scott Cummings (battling cancer) of McKendree, Cindy Potter of Columbia College (Mo.), Roxanne Grundmeier of the Class AA Northwest Arkansas Naturals, Mike Fragale of West Virginia, and Reagan Ratcliff of Dallas Baptist were featured subjects and opinion makers in the CoSIDA Open Forum online newsletter…Arizona, Connecticut, Georgia Tech, Michigan State, Mississippi State, UM Duluth, Missouri, Nebraska, New Mexico, Penn State, South Carolina, and TCU are working with NCAA enforcement and compliance officials concerning possible issues and reports at their respective schools.
2019-20 College Football Playoff Bowl Schedule with New Year's six(All Games Televised by ESPN, All Times EST) CFP
Saturday, Dec. 28 (CFP Semifinals)Chick-Fil-A Bowl, Mercedes-Benz Stadium, Atlanta, LSU 63, Oklahoma 28.PlayStation Fiesta Bowl – State Farm Stadium, Glendale, Ariz., Clemson 29, Ohio State 23
Monday, Jan. 13 – CFP Championship, Clemson vs. LSU, Mercedes-Benz Superdome, New Orleans, La., 8 p.m. Saturday, Dec. 28-Jan. 1, 2019-20 (Other New Year's Six Bowls)Saturday, Dec. 28 – Goodyear Cotton Bowl – AT&T Stadium, Arlington, Texas, Penn State 53, Memphis 39
Monday, Dec. 30 – Capital One Orange Bowl, Hard Rock Stadium, Miami Gardens, Florida 36, Virginia 28
Rose Bowl Presented by Northwestern Mutual, Rose Bowl, Pasadena, Calif., Oregon 28, Wisconsin 27
Allstate Sugar Bowl – Mercedes-Benz Superdome, New Orleans, La., Georgia 26, Baylor 14
###