Metroplex Again Capital of College Football For Three Weeks in 2019, '20
by
BoCarter
| Posted on Wednesday, January 15th, 2020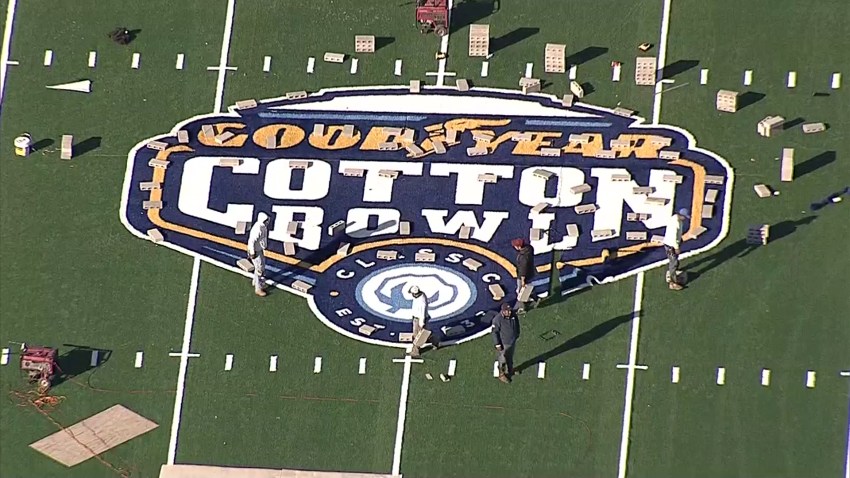 By Bo Carter, Bcarter@footballfoundation.com
DALLAS – From Dec. 20, 2019, until Saturday, Jan. 11, 2020, the Dallas-Fort Worth area arguably has been the hub of college football.
Sporting four bowl games and the NCAA Football Championship Subdivision and Division II national championships at five different locals in the region, this football activity generates upwards of $30 million (nope, not all of it is from the party-hearty North Dakota State Bison fans in the Frisco area) and drew in excess of 120,000 fans over three weeks.
It began with a historic third annual Tropical Smoothie Café Frisco Bowl, which resulted in Kent State's first bowl victory in four postseason tries 51-41 over Utah State of the Mountain West Conference and closed with the ever-popular NCAA DI title game – a 28-20 North Dakota State of the Missouri Valley Football Conference win over James Madison of the CAA – both at Toyota Stadium in Frisco.
In between West Florida also captured its historic, first NCAA DII crown in just its fourth season of varsity football 48-40 over Minnesota State at McKinney's lush, McKinney ISD Stadium on Dec. 21, Penn State remained undefeated in the Goodyear Cotton Bowl by outlasting Memphis of the American Athletic Conference 53-39, WKU eked past Western Michigan 23-20 in the SERVPRO First Responder Bowl at SMU's Ford Stadium, and old Conference USA rivals Southern Miss and Tulane (now in the American) tangled in the Lockheed Martin Armed Forces Bowl in Fort Worth Jan. 4 with the Green Wave prevailing 30-13.
From all indications, coaches and fan bases plus local ticket buyers and television viewers enjoyed the fast and furious activity and the relatively-benign weather for all six postseason clashes.
Two head coaches who were grateful to play for the NCAA DII trophy and extremely grateful to be traveling long distances to McKinney were DII National Coach of the Year Pete Shinnick of West Florida and Minnesota State head coach Todd Hoffner after their shootout.
"I am just so proud of these players and our administration for starting football in 2016 and having faith in us," said Shinnick. "We knew we could throw downfield in this game, and Quentin Randolph just had a spectacular game (10 catches for 254 yards and three touchdowns.
"We were considered the underdog (UWF finished 13-2 and entered the game No. 20 nationally)," he added, "and these kids just played their hearts and executed well."
"The people of McKinney were so wonderful to our team and fans," said Hoffner, who was the AFCA Division II Coach of the Year by the AFCA and who closed the year at 14-1. "We got behind and had to play catchup, but the players battled all day. Give credit to West Florida for a great game plan."
That appeared to be the sentiment from virtually every head coach and player who competed in the DFW area, and there is good news.
The XFL Dallas Renegades under future NFF College Hall of Fame coach Bob Stoops inaugurate play at Globe Life Park in Arlington against the St. Louis BattleHawks on Sunday, Feb. 9 – one week after NFL Super Bowl XLIII finishes. There will be year-round football in DFW with the addition of these XFL encounters.
In the meantime, here are notes from all six bowls and NCAA championships in the Dallas-Fort Worth Metroplex.
Tropical Smoothie Café Frisco Bowl – Dec. 20
Kent State now leads the series 2-1 between these schools after they split a pair of games in 1973 and '74. Utah State won at Kent State 27-24 in '73, and then KSU returned the favor with a 27-16 victory at USU in 1974. The two schools have played 202 total seasons and 1,996 all-time games since Utah State started varsity football in 1912. Kent State began its grid program in 1920. Kent State is now 348-558-28 in 97 seasons and 1-3 in bowls after its first postseason triumph. This was the first bowl appearance for the Golden Flashes since the 2012 GoDaddy.com Bowl. Utah State Aggies head coach Gary Andersen is 63-67-0 overall as an 11-year college head coach. He was 4-7 at Southern Utah in 2003, 26-24 in his first tenure at USU from 2009-12, 19-7 at Wisconsin in 2013-14, 7-23 at Oregon State from 2015-17, and 7-6 in his second stint at Utah State (now 33-30 overall in Logan). Andersen's unique career has taken him from an NCAA FCS independent to the Western Athletic Conference to the Big Ten to the Pac-12 and now to the Mountain West Conference. He is now 1-3-0 in four bowl tests – three at Utah State and one at Wisconsin. This game was closer than the first two walkovers in Tropical Smoothie Café Frisco Bowl annals. Louisiana Tech of Conference USA topped SMU of the American Athletic Conference 51-10 (41 points) in the 2017 inaugural while Ohio of the Mid-American Conference downed San Diego State 27-0 (27 points) of the Mountain West Conference in the 2018 renewal. Those margins averaged 34 points as compared to the 10-point verdict by the Golden Flashes.
NCAA Division II Championship – Dec. 21
Redshirt freshman quarterback Austin Reed came into the championship game for the Argonauts with for 1,122 yards, 10 touchdowns and just three interceptions in his first four 2019 NCAA tournament games against all Top 25 opponents. He threw for a title game-record 399 yards in the first half against MSU and had 523 yards for the game with six touchdowns. Minnesota State receivers Shane Zylstra had 145 yards on catches and one TD while teammate Justin Arnold ended with 154 yards on a DII championship game-knotting 13 receptions.
Goodyear Cotton Bowl – Dec. 28
The Curtis Sanford Trophy (Outstanding Offensive Player) went to Penn State RB Journey Brown (16 rushes for 202 yards; 2 receptions for 7 yards; 2 TDs). The Felix McKnight Trophy (Outstanding Defensive Player) was awarded to Penn State OLB Micah Parsons (14 tackles (7 solo), 2 sacks, 3 TFLs, 2 PBU, 2 forced fumbles). Memphis had 13 "chunk plays" (5 rushes of 10+ and 8 passes of 15+), 8 of which went for 20 yards or longer. Penn State's victory means that 11 different programs have won the Goodyear Cotton Bowl in the 11 games played at AT&T Stadium. The Nittany Lions advanced to 3-0-1 in GCB appearances. Memphis head coach Ryan Silverfield became the first head cach to make his college debut at the Classic in 84 seasons while Penn State head coach James Franklin and Silverfield became the 98th and 99th different head coaches in Goodyear Cotton Bowl annals.
SERVPRO First Responder Bowl – Dec. 30
WKU kicker Cory Munson booted a career-long, 52-yard field goal as time expired to give the Hilltoppers the win and to cap a 9-3 season after Western closed 2018 with a 4-8 mark. Interestingly, this was just the second time in 112 bowl contests played in the Dallas-Fort Worth area for the game to be decided on the last play. Alabama edged Texas Tech 13-10 on a walkoff field goal in the 2006 Goodyear Cotton Bowl Classic in Dallas. Munson's 31-yard field  goal with 1:36 to play tied the game at 20 before WKU got a key defensive stop and forced the Broncos to end their drive in Hilltoppers territory. Arkansas graduate transfer QB Ty Storey passed for 358 yards and two touchdowns passing. WMU was making a postseason return to the Metroplex after playing Wisconsin in the 2017 Goodyear Cotton Bwl. The Broncos were the first Mid-American Conference school to compete in the Classic and were coached by 2019 National Coach of the Year candidate PJ Fleck who guided Minnesota in '19 to its best record in school history at 11-2 and a bowl victory over Auburn.
Lockheed Martin Armed Forces Bowl – Jan. 4
Tulane staked USM to a 13-0 lead and then scored 30 consecutive points – one of the biggest comebacks in the 2019-20 bowl season. Southern Miss is now 577-411-27 (.581) overall in 108 seasons of football and 11-13 (.458) in bowl games. The Golden Eagles have played in 15 of these 23 bowls since 2000 and nine in the last 13 seasons and are 6-5 in their last 11 bowls since 2004. Tulane is 509-630-35 (.449) over 115 seasons and 6-7 (.462) in 13 bowl games – 4-1 in its last five bowl skirmishes since 1998. This represents the Green Wave's first back-to-back bowl appearances since the 1979 Liberty Bowl and 1980 Hall of Fame Bowl and second consecutive twin trips in school annals. "I appreciate all the great work everyone did on the bowl," said Tulane head coach Willie Fritz, "and it was great to win in Fort Worth. I also appreciate the support of the Green Wave Nation who made the trip here – Go, Wave! We beat a good Southern Mississippi team, and this was a big victory for our program." Game MVP QB Justin McMillan of Cedar Hill, Texas, played his final two collegiate contests near his hometown at SMU in AAC activity Nov. 30 and against Southern Miss in Fort Worth Jan. 4.
NCAA FCS Championship – Jan. 11
North Dakota State is now 137-13-0 (.913 winning percentage) since August 2010 for the best winning percentage of any college or NFL team. By comparison, Clemson is 117-21-0 (.848) since 2010, and Alabama is 124-15-0 (.892). The NFL New England Patriots are 156-42-0 over the same time frame for a .788. North Dakota State and James Madison have captured nine consecutive NCAA Division I football championships from 2011-19 – all at Toyota Stadium in Frisco, Texas. James Madison won in 2016 28-14 over Youngstown State while the Bison prevailed in 2011-15, 17-19. The 2019 Most Outstanding Player Award recipient was NDSU quarterback Trey Lance who led both teams with 166 net yards rushing. There still never has been an overtime contest in the 42-season history of NCAA Division I football championships. The team scoring first now is 7-3 in the last 10 FCS championships (JMU led 7-0 in the opening quarter). Eastern Washington trailed 7-0 in the first quarter of its 20-19 comeback win over Delaware in '10, and Illinois State broke the ice initially 7-0 in 2014 before falling 29-27 to NDSU.
###