HOUSTON BOPS THE MUSTANGS
by
Dan M
| Posted on Thursday, January 16th, 2020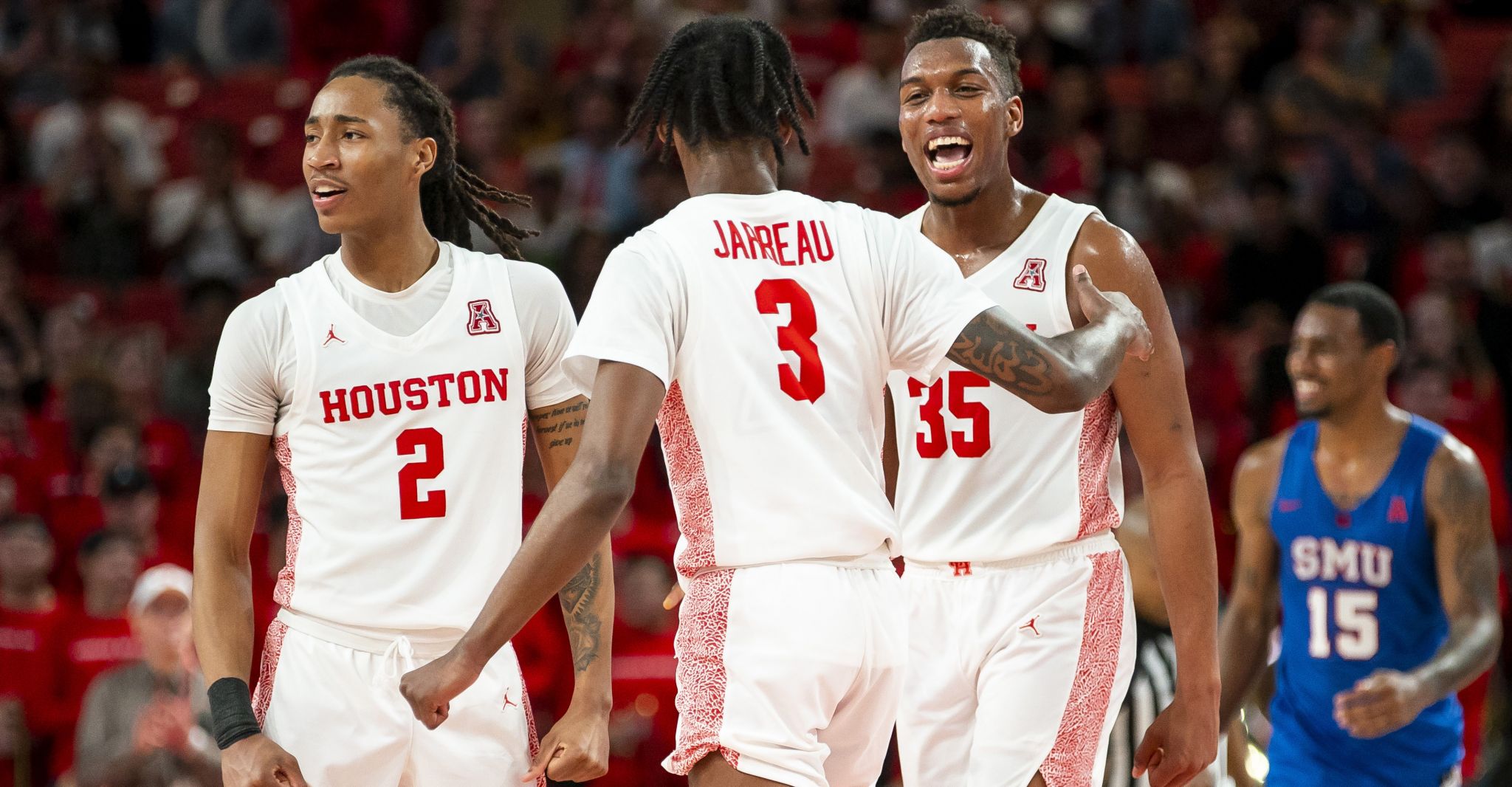 BY: Dic Humphrey
Member: United States Basketball Writers Association
The SMU Mustangs lost Wednesday night to the Houston Cougars in the Fertitta Center on the UH campus. Houston built an 11 point lead at halftime and held off a second half charge from the Mustangs to win 71-62. Houston improves to 13-4 for the season and 3-1 in American Athletic Conference play. SMU falls to 12-4 and 2-2. The Mustangs are now 3-3 in road games this year.
"They're a very difficult team to guard," SMU Head Coach Tim Jankovich said. "We did a good job on their actions. They didn't hurt us on their offensive things. But they've got some really tough one-on-one players. I was really proud of our effort. I loved a lot of things. We just didn't get the ball in the basket. We just really struggled offensively. Give them a lot of credit for that. Hard fought. Our guys were really united. It was a really good feeling for me on the bench. Unfortunately, we're on the short end."
Houston took an 11 point lead to the halftime locker room at 31-20. The Mustangs scored just two points over the final 6:13 to pave the way for the Cougars. SMU started the second half by scoring the first five points. That cut the Cougar lead to six points, and they got within one point at the 9:20 mark, but the Cougars were able to withstand every offensive thrust to maintain the lead.
SMU came into the game as one of the top free throw shooting teams in the nation. Surprisingly, they made just 6-13 (46.2%) in the game. Kendric Davis had just five missed free throws on the season, but made only two of five Wednesday night. The Mustangs suffered through another miserable shooting night from the three point line. They made just six of 25 (24%), including one of 12 in the first half. SMU has been a good rebounding team this season, out-rebounding their opponent in 12 of 15 games before meeting Houston. The Cougars solidly beat the Mustangs on the boards 45-34.
Davis had a strong second half to finish with 19 points leading the Mustangs. He also led SMU with six assists. Feron Hunt was the only other Pony in double digits with 14 points. Tyson Jolly was SMU's leading rebounder with eight. Unfortunately, he had a miserable shooting night (2-11) and is now 7-33 in his last three games.
Houston had three players score in double digits. Fabian White, Jr. led the Cougars with 17. He was also the top rebounder in the game with 10 to record a double-double. Caleb Mills, who did not start Wednesday night, finished with 15 points in 30 minutes. Nate Hinton scored 14.
The Cougars go on the road this weekend to face number 16 Wichita State on Saturday. The Wheat Shockers were upset Wednesday night by Temple to suffer their first conference loss. Wichita State and Houston are tied with Cincinnati and Tulsa atop the American Athletic Conference standings with 3-1 records.
The Mustangs return home this Saturday against the Temple Owls. Temple comes to Dallas with a 10-6 record overall, and they are 2-3 in conference play after their surprising upset of Wichita State Wednesday. Game time is 7:00 PM (Central), and the game will be televised on ESPNU.
NOTABLE:
Kendric Davis was named to the AAC Weekly Honor Roll for the second straight week. He scored 33 points, dished out 13 assists, and grabbed seven rebounds in games against Central Florida and East Carolina.
Houston now holds a 53-32 lead all time against SMU.
SMU Head Football Coach Sonny Dykes announced Wednesday that Garrett Riley will be his new Offensive Coordinator. If the last name sounds familiar, it's because Garrett is the younger brother of Oklahoma Head Football Coach Lincoln Riley. Riley replaces Rhett Lashlee, who departed to take the OC job at Miami University. Riley played quarterback at Texas Tech in the 2008 and 2009 seasons under then Head Coach Mike Leach. He was the running backs coach at Appalachian State last season, and has also coached at Kansas and East Carolina.