Kauf Drops: The Olt Factor
by
Todd K
| Posted on Tuesday, July 31st, 2012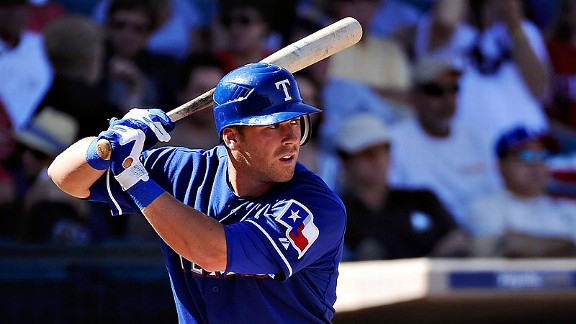 Image: ESPN Dallas
By Todd Kaufmann
Sr Columnist
tkaufmann@sportspagedallas.com
The Texas Rangers have been quiet up to this point, the last six and a half hours until the 3pm central daylight time deadline.
The only move so far has been acquiring catcher Geovany Soto and cash considerations from the Chicago Cubs for minor league pitcher Jacob Bingham. Underwhelming to say the least but a move that gives the Rangers a catcher under team control past the 2012 season, something they didn't have with both Yorvit Torrealba or Mike Napoli.
According to T.R. Sullivan of MLB.com, Torrealba was designated for assignment on Monday night, after Soto was acquired, so Texas now has 10 days to either trade him or release him.
Rumors surfaced on Monday that, contrary to earlier reports, the Philadelphia Phillies were going to make left-hander Cliff Lee available. Texas was the logical landing place for him but, by the end of the day, those talks had all but fizzled out.
It leads me to the headline of today's piece because it seems every deal the Rangers try to make, the team trading their piece wants minor league third baseman Mike Olt back in the deal; something the Rangers have been unwilling to do.
Doug Melvin, the general manager of the Milwaukee Brewers, told ESPN's Jim Bowden on his radio show Monday afternoon, "Mike Olt and Jurickson Profar were never on the table [for Zack Greinke]."
That doesn't surprise me seeing as the Rangers knew Greinke wasn't going to sign a long term contract with them and they weren't about to give up either of their top two prospects for another Cliff Lee situation.
In conversations with the Miami Marlins, there was no question they were going to want Olt back in a deal if the Rangers really wanted their young right-hander, Josh Johnson. While there would be other players involved in this trade, Texas still seems unwilling to put Olt on the table.
It begs the question, are the Rangers so high on this young man that they would forego landing a starting pitcher because they think Mike Olt is the next big thing?
So far this season, through 93 games with the Double-A Frisco Roughriders, Olt is hitting .288 with 27 HR and 80 RBI with a .400 on base percentage and .976 OPS.
There's no question, when looking at those numbers, it might get you a little excited about what this young man could do in the big leagues. But, when push comes to shove, are the Texas Rangers really ready to ride with what they have on the roster right now and see where it gets them? All because they aren't willing to trade Mike Olt?
With just over seven hours to go until the trade deadline, we'll see just how willing, or unwilling, Texas is to give up the pieces they'll need to part with in order to land the pieces they need to bring a championship home to Arlington, Texas.
Or maybe Rangers' GM Jon Daniels knows this team isn't built for a championship in 2011. So, maybe it is about planning for beyond 2012.
We'll have to wait and see how this day unfolds.